Victor Hristov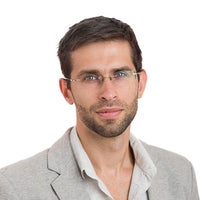 victor.h@phonearena.com
Victor has always enjoyed putting words to paper. As a teenager, he went to video game clubs at 6 in the morning, but instead of playing Starcraft, he would immerse himself in phone reviews back in the day when phones still had buttons instead of touchscreens.

Victor has a BA in Russian Language & Literature from Sofia University, and he continued his studies in automated translation systems (like Google Translate). He then had a gig at TransPerfect, one of the biggest translation companies in the world, and another one, writing business articles. He traveled the world for a while, but nothing quite fulfilled his passion for technology, until he stumbled upon a job opening at PhoneArena. He eagerly joined the company in 2010 to write about mobile tech, one of his passions and personal obsessions.

Here, Victor has taken joy to explore mobile photography in greater depths and has become one of the hosts of our YouTube channel. Throughout the years, he has reviewed hundreds of smartphones, and has extensive knowledge of both the Android and iOS ecosystems. His current focus is on smartphone cameras and battery life, and he has become increasingly curious about the way that smartphones have changed our lives and have grown into a world-wide obsession. He usually has a bunch of phones lying around his desk, changing his daily driver every week or so.

You can always email him at victor.h@phonearena.com with questions and thoughts you have about phones.

Victor also has a personal passion for sports and outdoor activities. He grew up playing basketball, but more recently he's found a passion for social latin dance and is constantly trying various other sports and activities, and is always up for a good fitness challenge. He shares his personal fitness journey over at Instagram under the "the.making.of.vic" handle.
Recent articles by Victor