OnePlus 10 Pro: Everything you need to know
We may earn a commission if you make a purchase from the links on this page.
The OnePlus 10 Pro is released in the U.S., and, while many might argue that the soul of OnePlus was hand-in-hand with co-founder Carl Pei who left the company in late 2020, OnePlus smartphones are still a hot topic, especially after their intriguing partnership with photography darling Hasselblad.
But how will the new course taken by OnePlus affect its next flagship phone? The Oppo overtake is seemingly changing tons of things, and while both companies have always technically been similar entities under the umbrella of BBK Electronics, things will never be quite the same for OnePlus, nor for the company's numerous avid fans.



OnePlus 10 Pro Release date
The OnePlus 10 Pro is now available on the US market.

There aren't any major hardware differences between the US-specific and the global versions of the phone, save for the 65W instead of 80W charger in the box in the US which added four minutes to the 30-minute charge time in our tests. The US also gets a single storage version and a no mmWave 5G support.

Here's how the OnePlus 10 Pro release compares to previous OnePlus generations:
| Model | Announcement date | Release date |
| --- | --- | --- |
| OnePlus 10 Pro (US version) | March 31, 2022 | April 14, 2022 |
| OnePlus 10 series | January 4, 2022 | January 11, 2022 |
| OnePlus 9 series | March 23, 2021 | April 2, 2021 |
| OnePlus 8 series | April 14, 2020 | April 29, 2020 |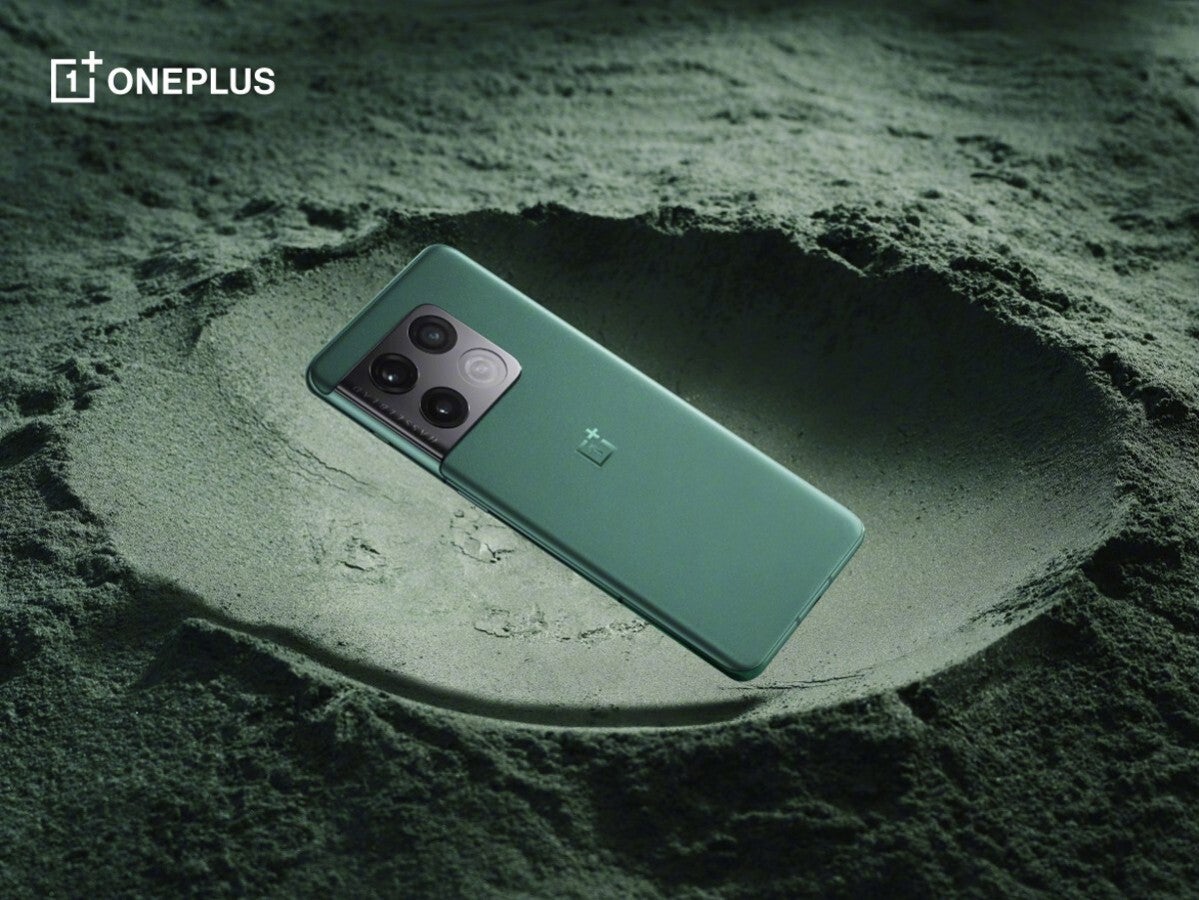 OnePlus 10 versions
The
OnePlus 10 Pro
isn't the only member of its device family, and the list might grow substantially in the near future.
There's the low-cost
OnePlus 10R
, which comes with premium-looking design and mostly high-end specs. Powered by a MediaTek 8100 Max and carrying a large, 6.7-inch OLED display with a 2412 x 1080 resolution, a 50MP main camera, and up to 150W maximum charging speeds, the OnePlus 10R will probably not make it to the US.
Despite the lack of anything official on the
OnePlus 10
, rumors claim that a non-Pro OnePlus 10 powered by a MediaTek chipset could be released in the second half of the year. And what do you know, a OnePlus 10 sailing under the PGZ110 model number has recently surfaced at
China's TENAA certification website
, featuring mostly mid-range specs, including an FHD+ display, a MediaTek Dimensity 8100 chip, and up to 12GB of RAM. Being a mid-ranger, the phone isn't likely coming with a telephoto lens, but will only feature a 64MP main shooter along with an 8MP ultra-wide camera and a 2MP macro snapper.
Another portion of recent rumors calls for a mysterious
OnePlus 10 Ultra
, which will be mostly similar to the OnePlus 10 Pro but finally feature a periscope camera as well. Little else is known about this upcoming version of the phone, aside from the fact that it's probably coming sometime in the second half of 2022, possibly in August or September.
Finally, we have a
OnePlus 10T,
that's actually coming August 3 at a live event in New York. The device will be ditching some core OnePlus features but will be boasting the all-new Snapdragon 8+ Gen 1 chipset, which is obviously getting better performance and efficiency in comparison with the Snapdragon 8 Gen 1 chip.
There will be the standard 8GB/12GB LPDDR5 RAM and 128GB/256GB of UFS 3.1 storage configurations as well. A 4,800mAh battery with a super-fast 150W charging could complete the specs sheet.

According to leaker Yogesh Brar, the camera will be lacking the Hasselblad branding, as well as a zoom lens. Turns out the phone will also be skipping the signature OnePlus mute switch/alert slider, but the sandstone back is set to be making a return, much to the delight of OnePlus purists!

Instead, the OnePlus 10T will rely on a 50MP primary camera with an f/1.8 aperture using the ubiquitous Sony IMX766 sensor, an 8MP ultrawide camera, and a 2MP macro camera further make up the camera set.
It's more than clear that the days of the ultra-affordable OnePlus flagship phones are long gone, and if none of the latest OnePlus phones have convinced you, then the OnePlus 10 Pro will likely do so. Still, it's a bit more acceptable than the iPhone Pro Maxes and Galaxies of the world, carrying a more grounded $899 price tag for its base version.

| Phone | Price |
| --- | --- |
| OnePlus 10 Pro (8GB + 128GB) | $899 |
| OnePlus 10 (rumored model) | ~$750 (rumored price) |
The OnePlus 10 Pro price starts at $899 for the 128GB model. Notably, the US doesn't get a 256GB version of the phone, which is available in other regions of the world, and it also doesn't have mmWave 5G as well.

OnePlus has top-notch internals worthy of its flagship status and premium price tag. Here's what's making it tick and click:
OnePlus 10 Pro official specs



Cameras

Second-generation Hasselblad Camera for Mobile
48MP + 50MP + 8MP
Dual OIS (Optical image stabilization)
32MP front camera

Processor

Qualcomm Snapdragon 8 Gen 1

RAM and storage

8GB/12GB LPDDR5 + 128GB/256GB UFS 3.1

Display

6.7" 120Hz Fluid AMOLED with LTPO (Second-gen LTPO Calibration)

Wired charging

80W SuperVOOC (65W in the US)

Wireless charging

50W AirVOOC
(Reverse wireless charging supported)

Battery

5000 mAh

Audio

Dual stereo speakers

Dimensions

163 x 73.9 x 8.55 mm

Other

OxygenOS 12 based on Android 12

Bluetooth 5.2
NFC support
5G support
VoLTE support
VoWiFi support
Here are the full specs of of the OnePlus 10 Pro:
OnePlus 10 Pro Review
For what it's worth, the OnePlus 10 Pro is shaping up to be more of what you already love about OnePlus, but not quite the breakthrough one might have hoped for. If your phone is aging and you are not after the ultimate camera, though, it should be well considered.
You can read more here:


OnePlus 10 Pro comparisons
We have three comparisons with the OnePlus 10 Pro, one with the iPhone 13 Pro Max and the other one against the Pixel 6 Pro.
What are the OnePlus 10 Pro colors?
The OnePlus 10 Pro is currently available in Volcanic Black and Emerald Green. There's the probability that more colors could be unveiled later on during the phone's life cycle, but we are a bit pessimistic about that.

The OnePlus 10 Pro features a triple camera system, consisting of a 48MP primary shooter with a 50MP ultra-wide-angle sensor and 8MP telephoto lens supporting 3.3x optical zoom while ditching the 9 Pro's fourth 2MP monochrome snapper. At the front, we will be taking selfies with a rather large 32MP front-facing camera, which doubles the resolution of the selfie camera on the OnePlus 9 Pro.
Here's a full summary of the camera and its specs:
| | OnePlus 10 Pro |
| --- | --- |
| Main | 48MP f/1.8 with a 23mm focal length and 1.12µm pixel size + OIS, PDAF, and Laser AF. |
| Ultra-wide | 50MP f/2.2 with a 14mm focal length and 1.0µm pixel size + AF. |
| Telephoto | 8MP f/2.4 with a 77mm focal length and 1.0µm pixel size + 3.3x optical zoom, PDAF, and OIS. |
| Front camera | 32MP f/2.2 with 0.8µm pixel size + EIS. |
The ultra-wide camera is particularly interesting this time around. It has an enormous 150-degree field-of-view, which is up to four times wider than what most other smartphones offer these days, and also has a dedicated "fish-eye" mode for an exaggerated and distorted effect, though purists could also use a more traditional 110-degree field-of-view shots.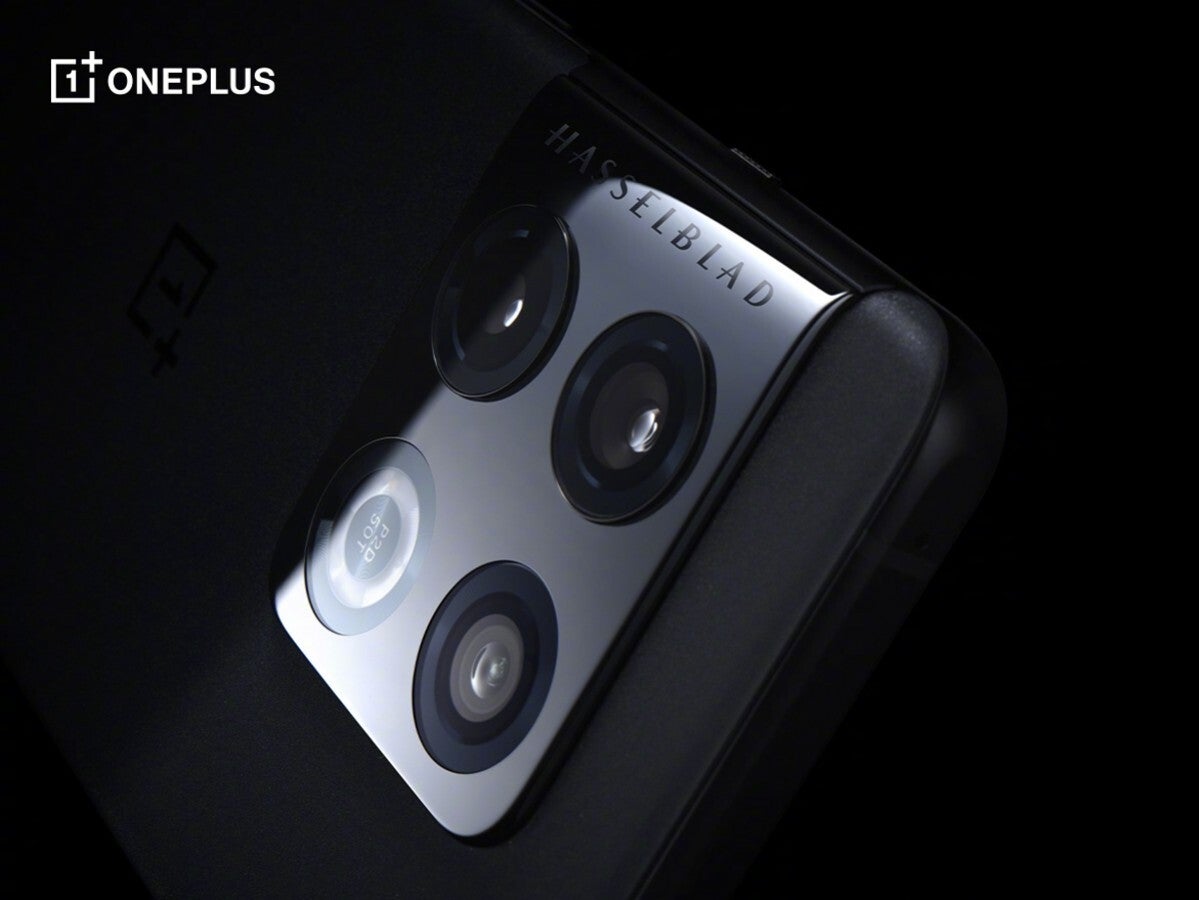 The phone features OnePlus Billion Color Solution, which shoots in 10-bit color, can capture photos with 25% increase in DCI-P3 color gamut coverage, and process 64 more color than the OnePlus 9 Pro. All three rear cameras of the OnePlus 10 Pro support 10-bit color, which should essentially remove any color banding from photos.
All three rear camera of the OnePlus 10 Pro support a second-generation Hasselblad Pro Mode, and what that means is photos can be captured in 12-bit RAW. These improved RAW files hold more information in them and allow knowledgeable enthusiasts to have more leeway to work with in post.
Finally, there's a dedicated Movie Mode on the OnePlus 10 Pro which lets the user adjust the camera's ISO, shutter speed, and more both during video capture and before starting. Additionally Movie Mode allows for shooting in the LOG format without a preset picture profile, providing video editors with a blank canvas for editing. According to OnePlus, videos filmed on the OnePlus 10 Pro in a LOG format offer greater dynamic range, more information in the shadows and highlights.
Does the OnePlus 10 Pro have an SD card slot or an audio jack?
No, the OnePlus 10 Pro has neither an SD card nor a headphone jack. OnePlus dropped the headphone jack after the OnePlus 6, and the company currently only uses microSD card slots on its more affordable devices, like the OnePlus Nord 2 CE.

What's the OnePlus 10 Pro battery capacity?
The OnePlus 10 Pro features a large, 5,000mAh battery with what's now signature super-fast OnePlus charging. In the case of the OnePlus 10 Pro, we have 80W SuperVOOC charging (65W charger in the box of the American version because of the 110V outlets) as well as record fast 50W AirVOOC charging. Sadly, the rumors that we're seeing record-fast 125W charging on the OnePlus 10 Pro didn't materialize. As a refresher, we were hearing that OnePlus would throw
125W ultra-fast charging
on the OnePlus 10 Pro. Despite that shortcoming, the 80W charging will probably be enough to top up the phone in under 30 minutes.