Google Pixel 7: everything you need to know
The Google Pixel 7 is coming in fall 2022 in two flavors: a cheaper and smaller Pixel 7 model, as well as a premium and larger Pixel 7 Pro version.
The two new Pixel 7 models made a cameo at developer conference Google I/O, revealing a familiar yet more refined design styling. Google has also teased that a brand new version of its in-house Tensor chip will power the upcoming phones.
But what are the differences between the two versions? And what's new from the last year models?
In this article, we summarize all of the latest news, leaks and rumors to give you a comprehensive picture of what the new Pixel 7 and Pixel 7 Pro bring to the table. We are updating this article regularly as well with the latest scoops about expected prices, release dates and other news of the upcoming Google flagship phones, so make sure to bookmark this page if you're interested in the Pixel 7 family.
Major Pixel 7 news [updated June 2022]
Google Pixel 7 release date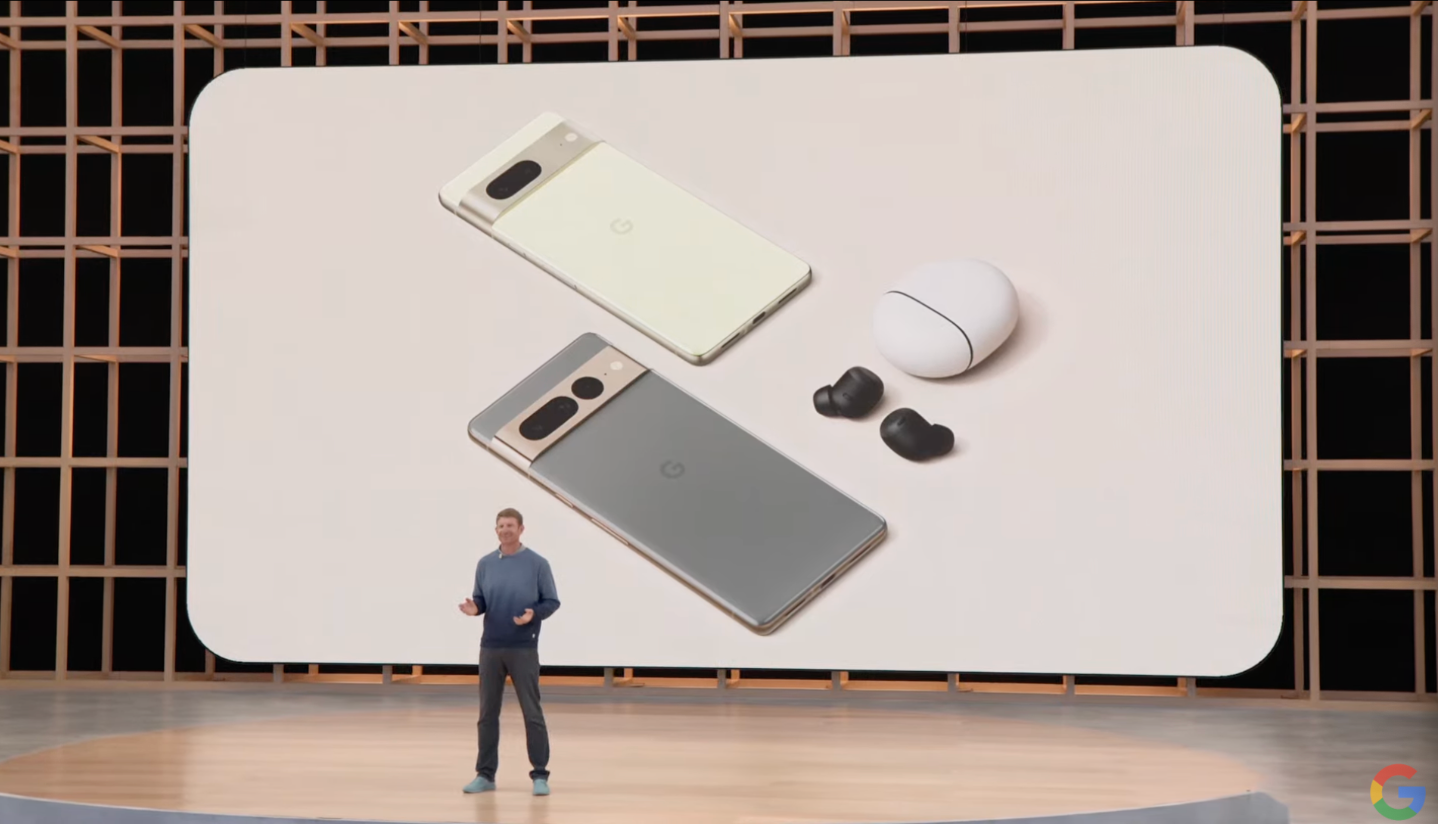 Google product management team lead for Pixel Brian Rakowski unveils the Pixel 7 series design at Google IO 2022
While Samsung and Apple typically unveil their flagship phones in late August to mid-September, Google sticks with much later dates and typically announces its Pixels at the middle of October with an in-store launch toward the end of October.
| Model | Announcement date | Release date |
| --- | --- | --- |
| Pixel 7 and Pixel 7 Pro | Oct 6, 2022 pre-orders* | Oct 13, 2022* |
| Pixel 6 and Pixel 6 Pro | Oct 19, 2021 | Oct 28, 2021 |
| Pixel 5 | Sept 30, 2020 | Oct 15, 2020 |
| Pixel 4 and Pixel 4 XL | Oct 15, 2019 | Oct 24, 2019 |
*Dates are based on early information by so called reputable sources. Typically, Google launches its phones a bit later, but this year it might be ready with the devices ahead of its usual schedule.
Google has confirmed that the Pixel 7 family is on track to make its debut this fall, and we would expect this to happen in the middle of October.
Google Pixel 7 price
One of the best things about the Pixel 6 family was the surprisingly affordable price, especially of the base non-Pro version.
Google has not year officially revealed the prices of the Pixel 7 duo, but below we have put forth our expectations.
Phone
Starting price
Pixel 7
Pixel 7 Pro
$600 for 128GB Pixel 7*
$700 for 256GB Pixel 7*

$900 for 128GB Pixel 7 Pro*
$1,000 for 256GB Pixel 7 Pro*
$1,100 for 512GB Pixel 7 Pro*
Pixel 6
Pixel 6 Pro
$600 for 128GB Pixel 6
$700 for 256GB Pixel 6

$900 for 128GB Pixel 6 Pro
$1,000 for 256GB Pixel 6 Pro
$1,100 for 512GB Pixel 6 Pro
*Prices are estimations by the author based on previous products in the same category. Prices are not officially confirmed by Google yet.
Considering inflation factors, however, it is also possible that Google will raise prices on the Pixel 7 family, so take the numbers above with a grain of salt. We will have more reliable information about the Pixel 7 pricing closer to their announcement date.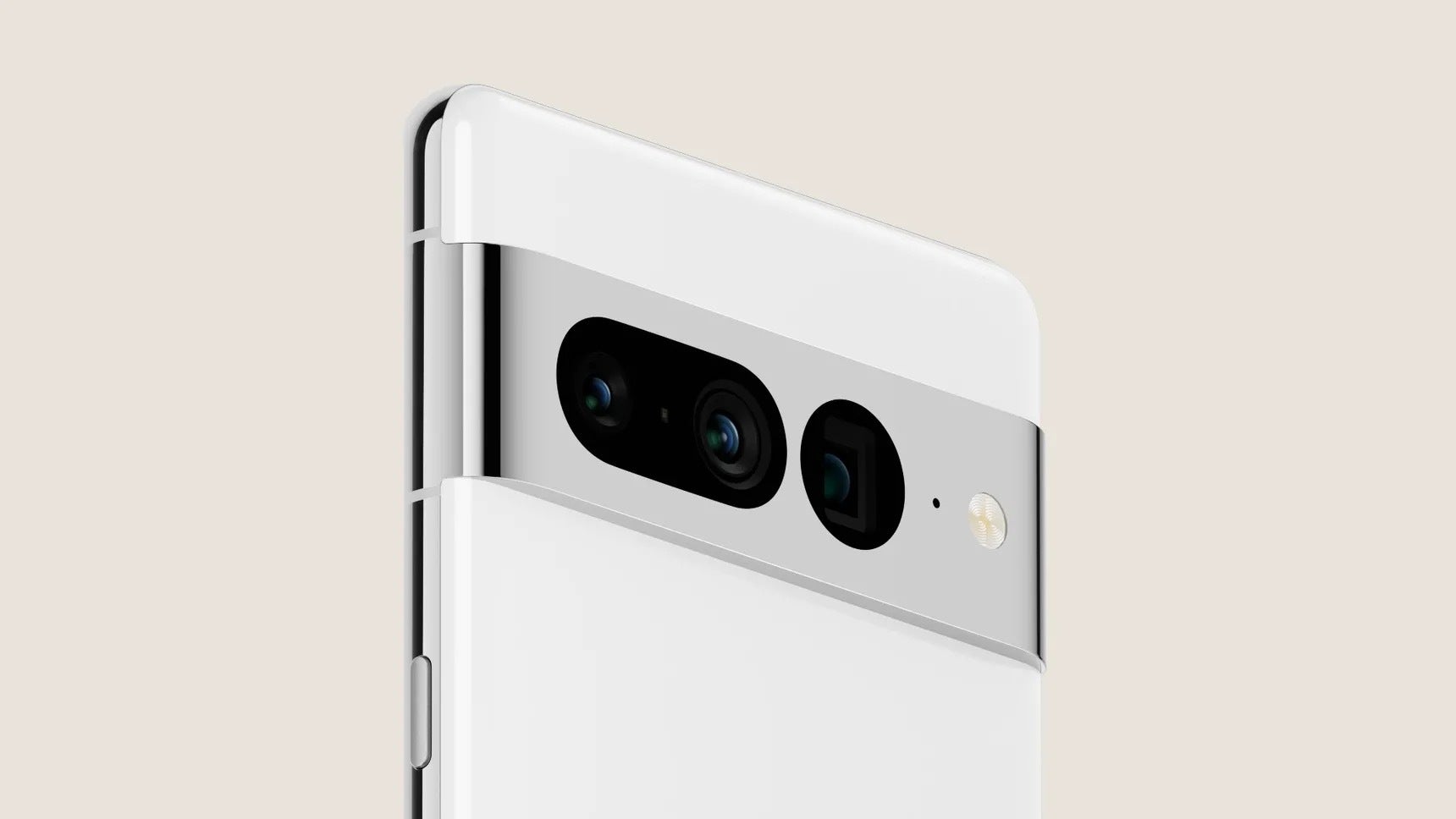 After years of using the same camera sensor, Google finally updated the camera hardware in the Pixel 6 series, so we don't expect another change to come so quickly in the Pixel 7.
The official Pixel 7 renders that Google showed to the public also corroborate this as we see a familiar dual-camera setup on the Pixel 7 and a triple-camera system on the Pro. Earlier reports from tech insiders have also confirmed that the Pixel 7 series will indeed use the same camera hardware as the previous generation.
Here is what this means: Pixel 7 and Pixel 7 Pro will stick with a 50MP main camera sensor that measures 1/1.3 inches, which is on par or larger than most other flagship phones. And the larger the sensor, the better its performance, at least in theory. The two phones are also expected to share the same 12MP ultra-wide shooter. The Pixel 7 will only have these two cameras, while the Pro version will also offer a third, periscope-style telephoto camera at 4X zoom, again in line with what we saw on the predecessor model.
Still, despite what looks like identical camera hardware, Google hardware chief Rick Osterloh promises that the Pixel 7
"sets a completely new standard for photography, performance and design."
How will that happen? Well, the executive pledged to AI-heavy breakthroughs in both photography and videos.
Pixel 7 and Pixel 7 Pro Camera Hardware:
50MP wide, f/1.85
12MP ultra-wide, f/2.2

48MP 4X zoom telephoto, f/3.5 (only on Pro model)
While we don't expect new camera hardware, Pixel cameras were never just about the hardware.
And the Pixel 7 is indeed expected to focus on software improvements to photo and video quality. We don't have any details about any particular new features yet, but as a reminder, in 2021 on the Pixel 6, we saw Magic Eraser and Face Unblur make quite the splash.
A recent leak also shows that both the Pixel 7 and Pixel 7 Pro are expected to support 4K video using the front camera (previously, only the 6 Pro model supported 4K for the front camera).
Pixel 7 processor, storage and memory
Google has now officially confirmed that the Pixel 7 duo will use a second-gen Tensor chip. Earlier leaks have discovered this new processor goes by the codename 'GS201'.
This mysterious chip is an evolution of Google's very own Tensor, its first home-made mobile chip, that was used on the Pixel 6. Tensor focused on incredible ML performance, but was behind the competition in single- and multi-core CPU performance, so we hope the new 'GS201' bridges that gap.
As for RAM, we don't have anything official, but we do expect the Pixel 7 to carry on with 8GB RAM on board vs 12GB RAM on the Pixel 7 Pro model.
And as far as storage goes, both phones are projected to have a 128GB base model, as well as a 256GB version, while the Pro model is likely to have a 512GB model as well.
Pixel 7 design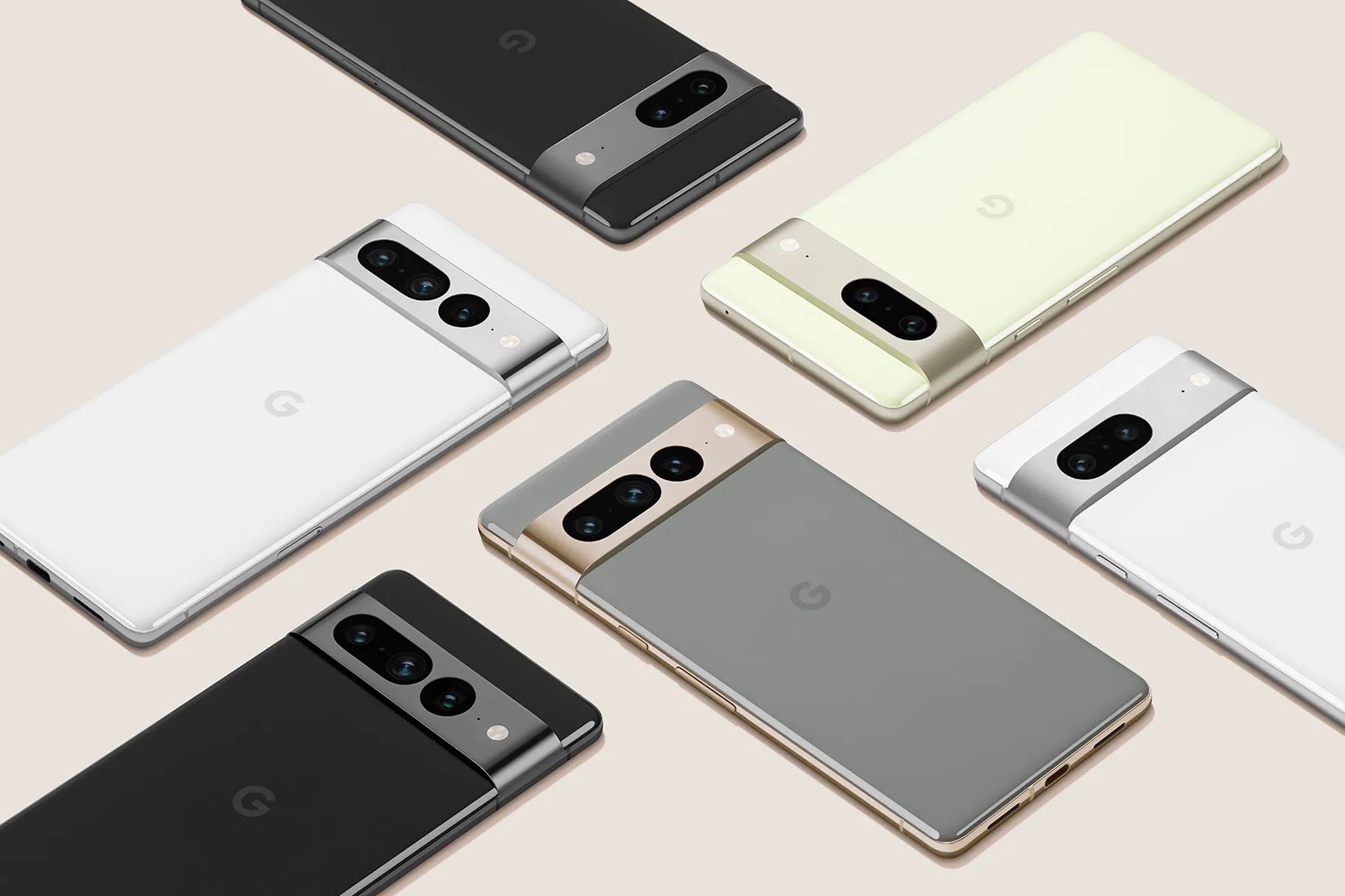 For the Pixel 7, Google will mostly stick to the design styling it debuted last year, with a few touch ups. The latest look at the Pixel 7 Pro comes thanks to a customer who received a Pixel 7 Pro in the mail instead of the Pixel 6 Pro they ordered. This mistake confirms the phone is well on its wa.
First, the Pixel 7 and the 7 Pro still have a glass black with that signature camera bar across the back of the phone, a look that is instantly recognizable. Google switches to a single color for the glass back combined with a polished aluminum housing in a complementary color for the camera bar. What this means is you will get, for example, a silver camera bar with the white Pixel 7 Pro, while the gold color Pixel 7 will have a champagne tone camera bar. These are subtle details, but it seems that Google has gotten them right, so the phones indeed look very pleasing.
For the Pixel 7 colors, Google showed three color options for the Pro and three for the non-Pro. Both phones will come in a classic black colorway as well as a white color option, but the third model is different. The Pro gets this new gray-ish color with a gold camera bar, while the regular model has a kind of cream/gold version.
The good news for some people, however, might be simply that the non-Pro model is expected to be more compact in 2022. Here is a comparison of the leaked dimensions of the new Pixel 7 family vs their predecessors:
Pixel 7 dimensions: 155.6 x 73.1 x 8.7mm
Pixel 6 dimensions: 158.6 x 74.8 x 8.9 mm
Pixel 7 Pro dimensions: 163 x 76.6 x 8.7mm
Pixel 6 Pro dimensions: 163.9 x 75.9 x 8.9 mm
As you can see, per leaks, the Pixel 7 is shaping to be narrower, shorter and thinner, while the Pro version will be a hair thinner, but also a bit wider.
Standard flagship extras like IP68 water protection are expected on both new Pixels, but you will also have the typical shortcomings of modern flagships: don't expect a 3.5mm headphone jack or microSD card support (no expandable storage).
Our biggest hope here is that Google fixes the fingerprint scanner. The Pixel 7 series will stick with an under-screen fingerprint scanner, but we don't know whether it would be of the ultrasonic kind (like Samsung Galaxies) or optical (like the previous Pixel 6). Whatever it is, it has to be faster than the sluggish one on the Pixel 6 family.
We also hope to see image-based face recognition make its debut on the Pixel 7. The feature was rumored for the Pixel 6, but hasn't made it to the series so far.
A few years earlier, the Pixel 4 and 4 XL had Face Unlock thanks to a special array of infra-red sensors that built and recognized a 3D model of your face, much like Apple's Face ID. The company, however, only used that on the Pixel 4 series and gave that all up in following models. So that is why we do not expect to see 3D Face Unlock in the Pixel 7 series. Instead, the beset we can hope for is simple and less secure, 2D image-based face recognition like on most other Android phones out there.
Pixel 7 display
In line with the expected smaller physical size of the regular Pixel 7 model, we will also get a smaller screen size as well:
Pixel 7 display: 6.2", 1080p, 90Hz OLED, flat
Pixel 7 Pro display: 6.7", 1440p, 120HZ OLED, curved
The Pro version, on the other hand, could keep the same 6.7" screen size, or even grow to 6.8" according to some rumors.
Expect to see better quality screens as well, with more precise color calibration and higher brightness for more comfortable outdoor viewing.
An interesting new detail here is that the Pixel 7 Pro might come with the option to tone down the resolution to 1080p in order to preserve battery life. Of course, you will also be able to use it at the maximum 1440p resolution as well.
The previous-gen Pixel 6 Pro introduced a screen that could dynamically refresh from 10Hz to 120Hz, and this year, we expect the Pixel 7 Pro to use a more advanced version of this technology so the screen can modulate between 1Hz to 120Hz. This should allow for more power efficiency and battery savings.
Pixel 7 battery
With a more compact Pixel 7 and mostly the same sized Pixel 7 Pro, we expect battery sizes to change accordingly. Google has not yet revealed the battery sizes officially, though.
Still, we expect the Pixel 7 to have a smaller battery than the 4,600mAh cell on its Pixel 6 predecessor, while the Pixel 7 Pro will likely stick with a 5,000mAh-ish battery capacity, same as on the preceding Pixel 6 Pro.
We don't expect to see any major changes in battery technology either, so expect both new phones to last one full day, but not much more than that.
Charging speeds of the previous Pixel 6 models was limited to 30W, and we expect the same speeds on the newer models. Both Pixel 7 phones are also due with wireless charging support.
Pixel 7 features and software
The big new feature of the Pixel 7 family will certainly be the new
Android 13
operating system.
The Pixel family is traditionally the first one to showcase the newest Android version and the Pixel 7 will probably be no exception.
Expect a slew of new camera features as well, but so far, we have no specifics here.
Should I wait for Pixel 7?
You should wait for the Pixel 7 if

you are sick and tired of the little compromises that Google makes with Pixels — be it the slow fingerprint scanner of the Pixel 6 series, the poor speakers and slow chip of the Pixel 5, or the sub-par battery of the Pixel 4. The Pixel 7 shapes up to finally fix all those flaws and deliver a more balanced package. Also, it will finally offer a truly compact version!
You should NOT wait for the Pixel 7 if

you are happy with your current phone. Pixel 6 owners will probably have no big reason to upgrade either.
Should I upgrade from Pixel 6 to Pixel 7?
The Pixel 7 series are exciting mostly because they are expected to fix a few ongoing flaws in the Pixel lineup.
We don't expect anything quite revolutionary here, but that's been the case for the whole industry and with a mature smartphone market, it is careful refinement that we value the most.
We don't see a big reason to upgrade from a Pixel 6, but if you have a 2-year old device or older, the Pixel 7 will deliver the clean experience, excellent camera and fast updates that few other phone makers can offer.