Google Pixel 6a vs Samsung Galaxy A53 5G: Clash of the mid-range titans
4
We may earn a commission if you make a purchase from the links on this page.
The new
Google Pixel 6a
has now been released! This would be the search engine giant's latest competitive mid-range smartphone, and it's about time we pit it against the obvious competition.
Samsung's Galaxy A-series has been dominating the mid-range market forever, so does the new Pixel 6a match up, or even surpass the similarly-priced and similarly-sized Galaxy A53?
Let's compare the two and find out!
Jump to:
Pixel 6a vs Galaxy A53: Price and release date
The Pixel 6a made its official debut fairly recently, during
Google
's I/O developers event on May 11. Pre-orders for the Pixel 6a opened on July 21, and actual shipping started on the following Thursday, July 28, 2022. Its starting price – $449 for the base 128GB model.
The Galaxy A53 5G itself is pretty new too.
Samsung
released it back on April 1st, 2022, so you can get it as soon as today or tomorrow also. The A53's price is exactly the same – $449, and comes with 128GB of storage too.
Pixel 6a vs Galaxy A53: Design and colors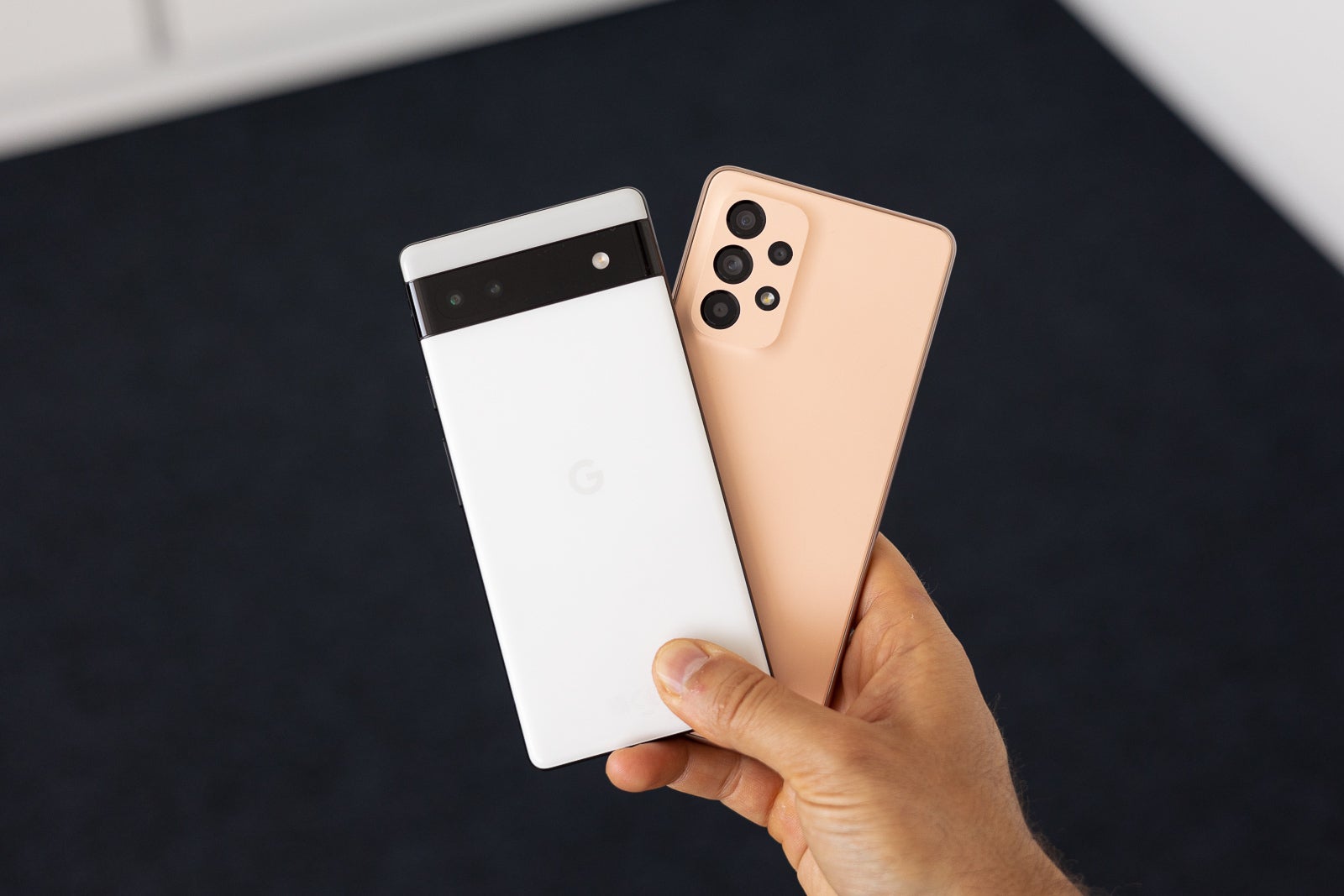 The Pixel 6a (left) and Galaxy A53 5G (right)
The visual design of those two phones differs quite a bit, and whether you prefer the look of one or the other is up to you – subjective.
The Pixel 6a has about the same design as the flagship
Pixel 6
– minimal bezels on the front, a holepunch selfie camera, and on the back – a glossy two-tone style, with a wide, signature camera module. It's the flashier of the two, but also unmistakably Google Pixel.
The Pixel 6a also comes in three color options: Sage, Chalk and Charcoal.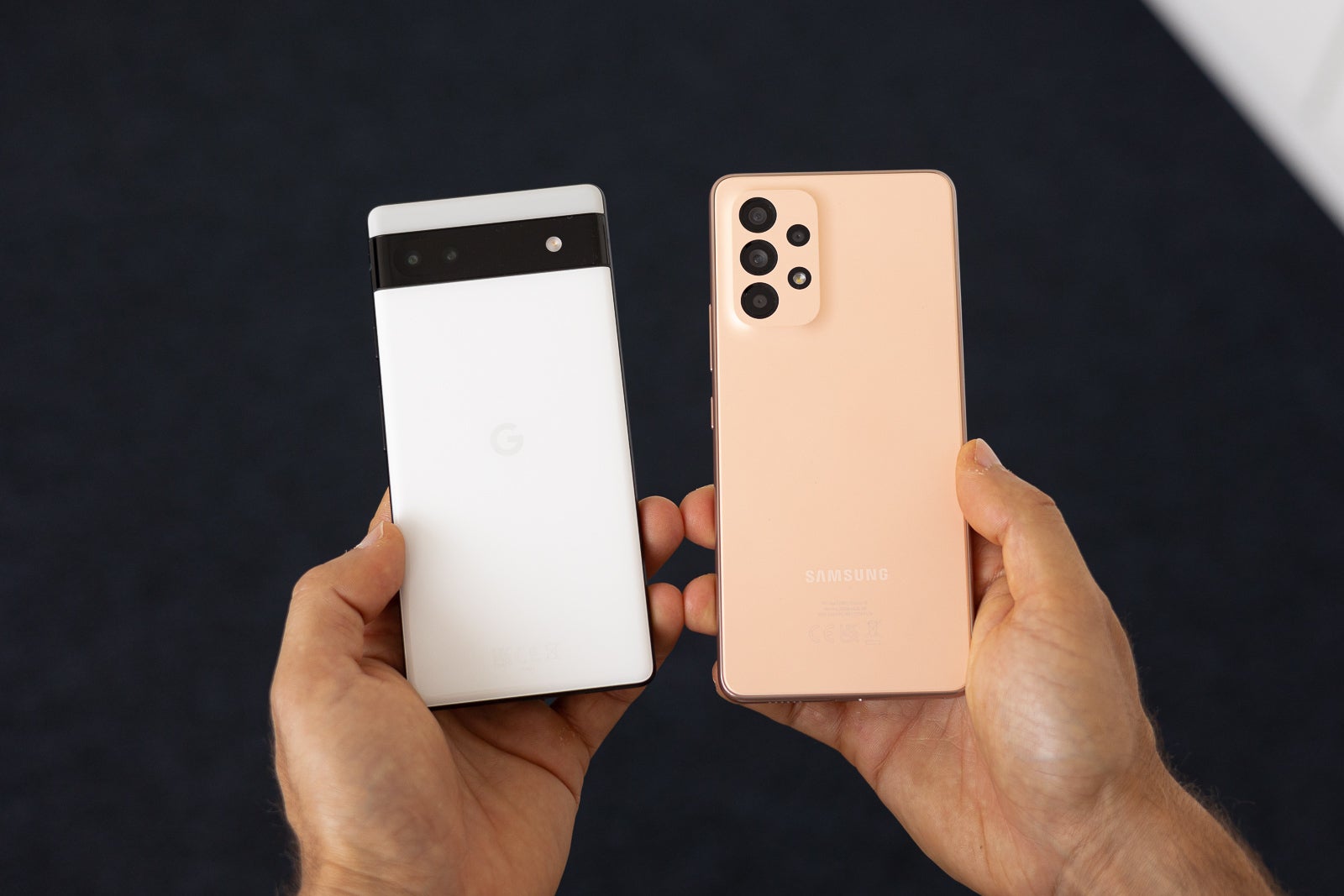 The Pixel 6a (left) and Galaxy A53 5G (right)
The Galaxy A53, however, is what we would pretty much consider a minimalist-looking phone, and some people prefer that instead. While the front is similar – with minimal bezels and a holepunch camera, the back is all one color, with a nice matte finish resistant to fingerprints, and a camera module that definitely isn't trying to draw attention to itself.
The Galaxy A53 offers the more vibrant colors too. You can find it in White, Black, Orange and Awesome Blue, as Google calls it.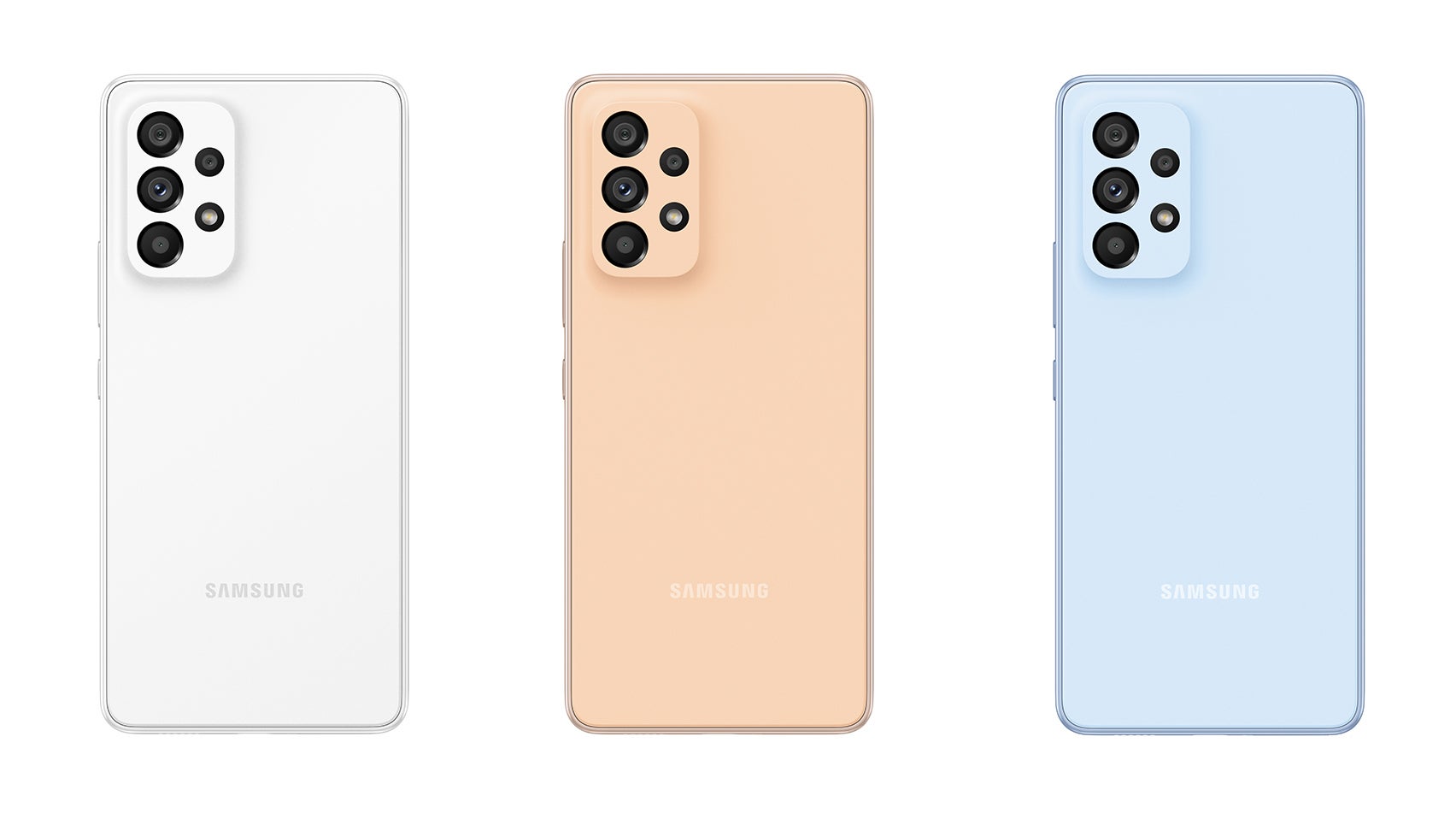 Some of the available Galaxy A53 5G colors
If you're interested in the exact dimensions of each phone, here's a side-by-side for you to check out. But basically, the Pixel 6a is both smaller and a bit lighter than the A53 5G.
Pixel 6a vs Galaxy A53: Display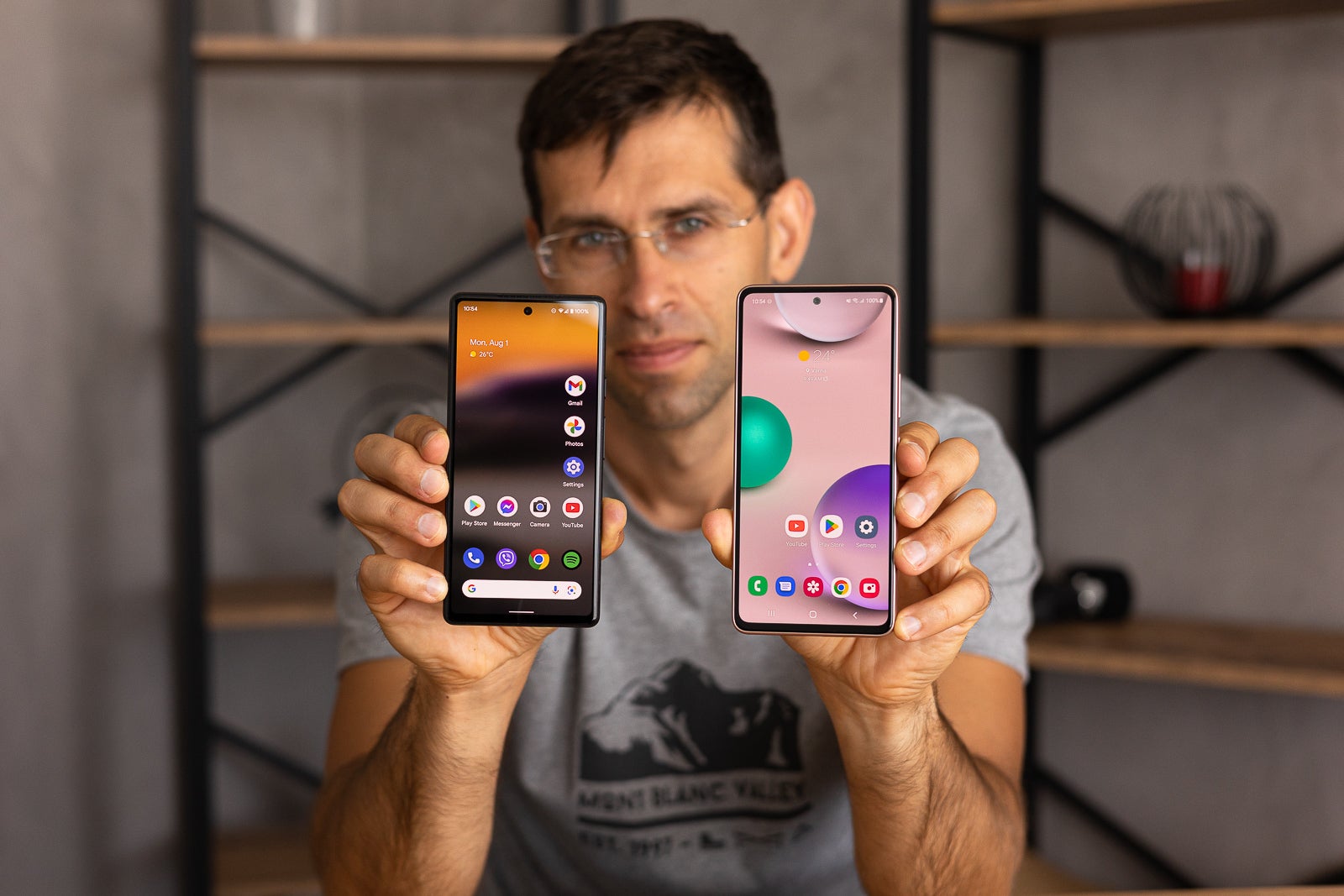 The Pixel 6a's display (left) and the Galaxy A53 5G's screen (right)
Display measurements and quality
As we can see from our display measurements above, the two phones are about on par, with their display differences being rather minimal to the eye. The Pixel 6a does go brighter, but on the flip side, the Galaxy A53 can go dimmer, which too is a useful thing for people using their phones in the dark, at night.
The Pixel 6a packs a 6.1-inch OLED display with a 1080p resolution and a traditional 60 Hz refresh rate.
As for the Galaxy A53, it has a bigger 6.5 inch OLED display, again 1080p, but with a higher refresh rate of 120 Hz. So if you're into bigger and smoother displays, that would be the better choice for you.
Pixel 6a vs Galaxy A53: Hardware and performance
The Pixel 6a comes powered by Google's own Tensor Gen1 (GS101) processor and 6GB of RAM. In our
Google Pixel 6a review
, we were quite pleased with its fast performance, in both regular use and gaming. However, it's worth noting that we noticed an uncomfortable amount of heat building up, during longer gaming sessions (Genshin Impact, Diablo Immortal). After about 20 minutes of playing Genshin Impact, the Pixel 6a gets uncomfortably hot, so keep that in mind – its lack of competent cooling might be an issue for mobile gamers.
The Galaxy A53 is running Samsung's Exynos 1280 processor, combined with again 6GB of RAM. When we were testing it for our
Galaxy A53 5G review
, we found it to struggle a bit with gaming, exhibiting the occasional frame drops in games like Minecraft. However, for casual tasks like watching videos and browsing the web, navigating through the phone is perfectly smooth.
For reference, we have the A53's performance benchmark against the Pixel 6a below:
As we can see from our benchmarks, the Pixel 6a outperforms the Galaxy A53 5G in every test, and even crushes it by far in some. This is to be expected from a newer smartphone with a Tensor processor, as opposed to an Exynos one. If you value performance, Google's mid-ranger is definitely your safer bet. However, do remember that it can get quite hot when under heavy loads.
Pixel 6a vs Galaxy A53: Cameras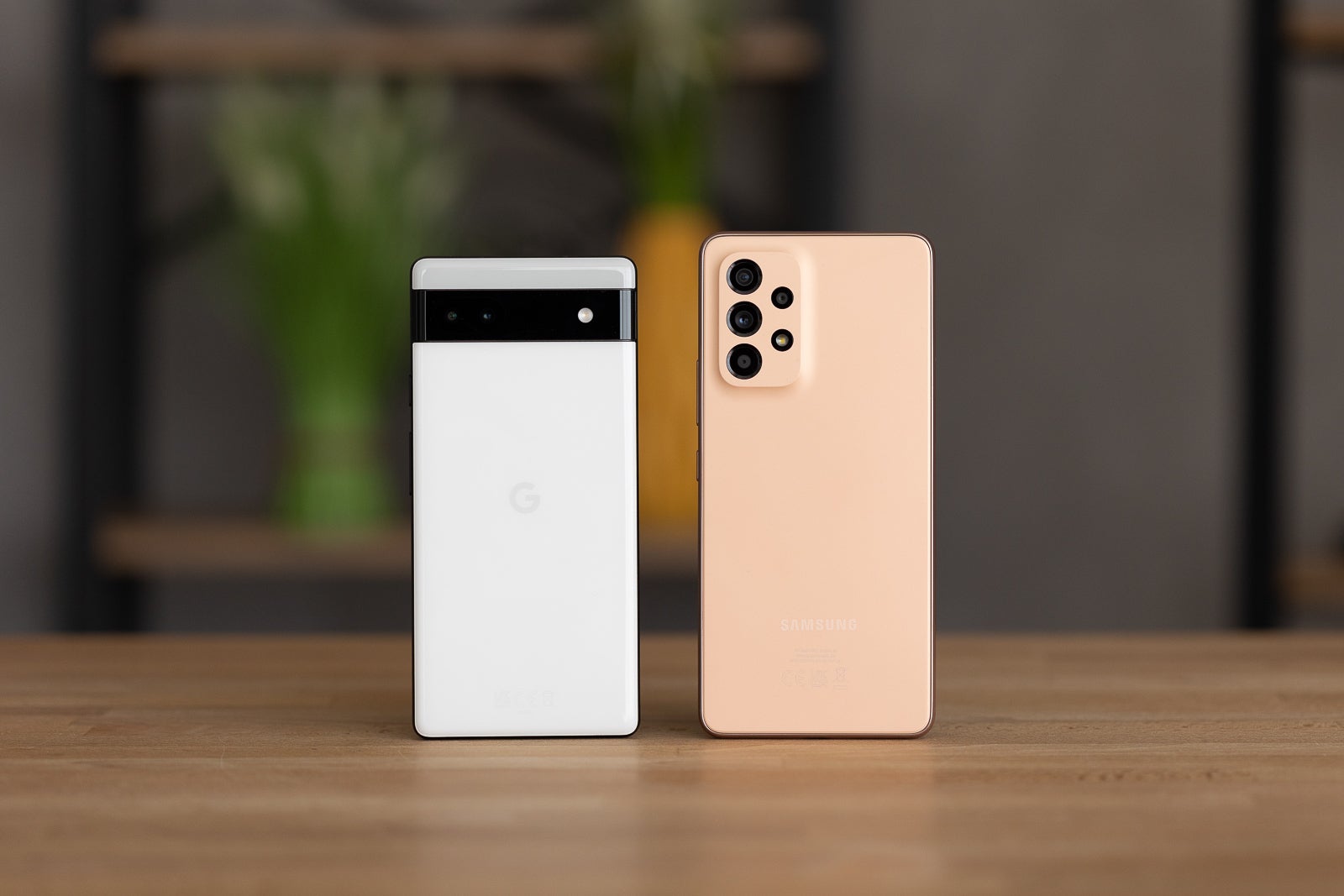 The Pixel 6a's camera (left) and Galaxy A53 5G's camera (right)
Inside that signature camera module, the Pixel 6a sports a 12.2MP main camera and a 12MP ultra-wide one. On the front we have the 8MP front camera from the flagship Pixel 6.
The Galaxy A53 has four sensors on the back – a 64 MP main camera, 12 MP ultra-wide, 5 MP macro and an additional 5 MP depth sensor.
As we can see from the above sample video of the Pixel 6a vs the Galaxy A53 5G, the Pixel 6a seems to handle bright scenes a bit better, while the A53 5G tends to over-expose. The Pixel 6a also sports the nicer, warmer and more accurate colors of the two phones. You'll also notice that the Pixel 6a has solid stabilization, while we definitely can't say the same for the A53.
Both phones have ultra-wide cameras you can switch to in mid-video recording, and as we can see again from the sample video above, the better quality remains in the Pixel 6a's ballpark. However, the Galaxy A53's wide camera is much wider, capturing way more of the surroundings (at the cost of distortion), so for anyone who values that, it's worth noting.
In terms of microphone quality, both the Pixel 6a and the Galaxy A53 5G are about on par, perfectly serviceable. Again, you can hear how each phone's mic sounds from the video above.
And now, let's check out some sample photos from each phone and compare how those turned out.
< Pixel 6a
Galaxy A53 5G >
As we can see from the samples above, the issues the Galaxy A53 5G has when video recording remain in still shots. Its contrast and over-sharpening are quite a bit stronger than what we see from the Google Pixel 6a, which itself produces pleasant and warm pics.
< Pixel 6a
Galaxy A53 5G >
When it comes to nighttime camera shots like the ones above, there's no competition whatsoever. The Google Pixel 6a is clearly capturing way brighter and more detailed nighttime photos than the Galaxy A53 5G, which continues to have a contrast problem, now more visible than ever.
Pixel 6a vs Galaxy A53: Battery
Google's Pixel 6a comes packing a 4410mAh battery, and is capable of fast charging at up to 18W. No wireless charging. In our review, we stated that it can easily last a day and a half, if not more with light usage, but it's not quite the battery champ like its predecessor.
The Galaxy A53 5G has a bigger battery, 5000mAh, and higher fast charging speeds at up to 25W. While testing it for our review, this beefy battery was able to last us a comfortable day of heavy use, which is impressive, considering this phone's screen has twice the refresh rate – 120Hz. And that's taxing on the battery.
However, a light user can easily choose to drop the A53 to 60Hz and get even longer battery life out of it. In any case, no wireless charging on this phone either.
For reference, we have our Galaxy A53 battery benchmarks against the Pixel 6a below: