Google Pixel 6a vs Pixel 5a comparison: Twice the performance!
2
We may earn a commission if you make a purchase from the links on this page.
Now that the Google Pixel 6a has been released, it's time for us to do a comparison of this new 5G mid-ranger from
Google
, and its predecessor – the Google Pixel 5a. Let's see what kind of upgrades we're dealing with, and whether you'll have enough reasons to sell the older one and buy the brand new mid-range Pixel.
Pixel 6a vs Pixel 5a: Price and release date
The Google Pixel 6a was officially unveiled on May 11, 2022. Pre-orders opened on July 21, and its release date was on July 28, 2022. Price: $449 for the base 128GB model.
The Pixel 5a was released back on August 26, 2021, with the exact same starting price of $449 for, again, the base model with 128GB of storage.
Pixel 6a vs Pixel 5a: Design and colors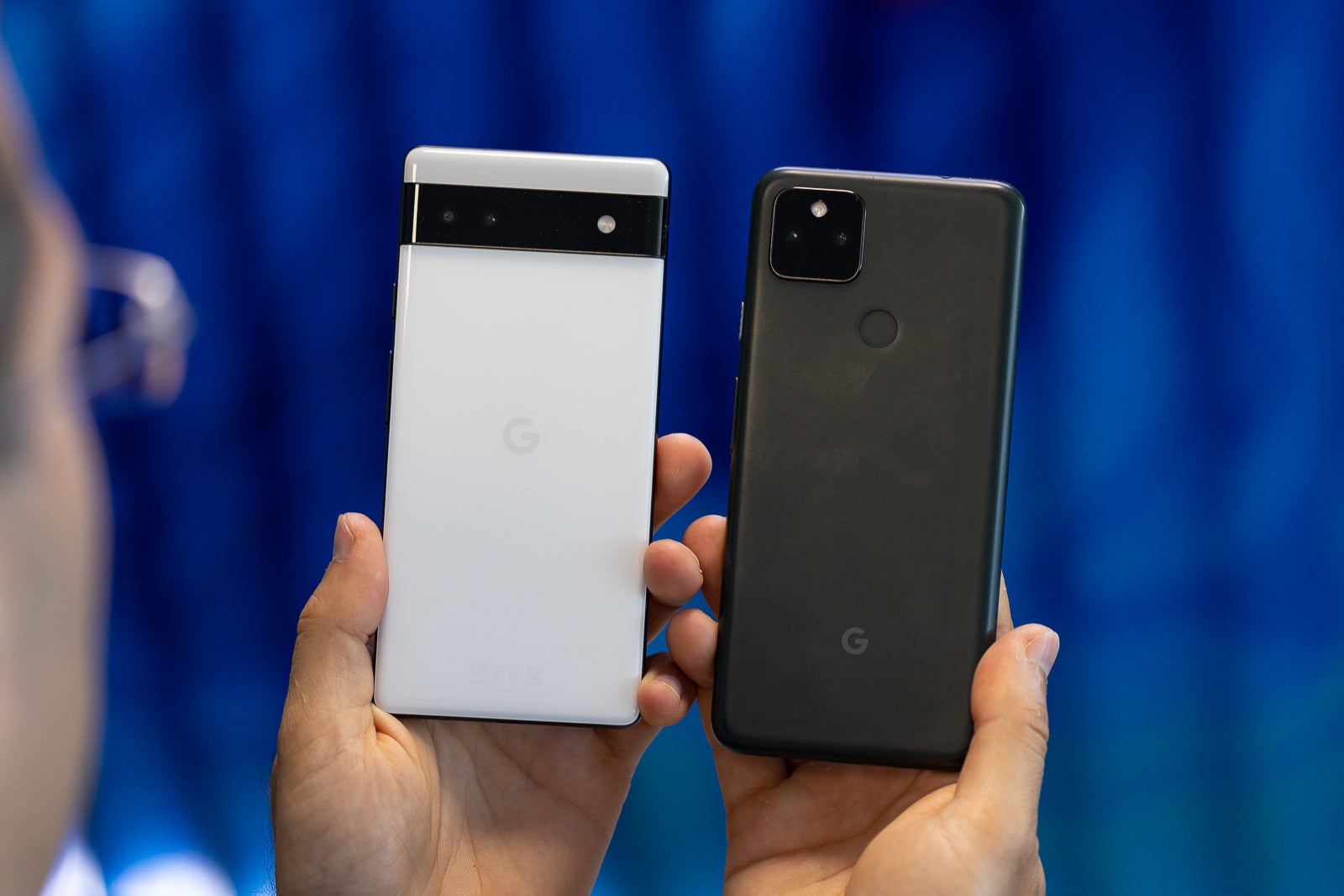 The Pixel 6a (left) and Pixel 5a (right)
The design of the new Google Pixel 6a has changed quite a bit from its predecessor, now resembling the flagship Pixel 6 and Pixel 6 Pro, mainly by adopting their wide, horizontal camera module. The older Pixel 5a has a square one instead.
Google Pixel 6a colors:

That aside, both of these mid-rangers look modern and premium, with minimal bezels and a holepunch selfie camera up front, although the new Pixel 6a does have slightly smaller bezels, and its selfie camera has been moved to the top center. It's also noteworthy that the Pixel 5a has a matte back, while the Pixel 6a's back is glossier.

(Yep, just one.)
As we can see from our size comparison above, the Pixel 6a is both a bit more compact and a bit lighter than the Pixel 5a. We're also getting less rounded corners on the former, which is actually a nice way to squeeze out a tiny bit more screen real estate.
Pixel 6a vs Pixel 5a: Display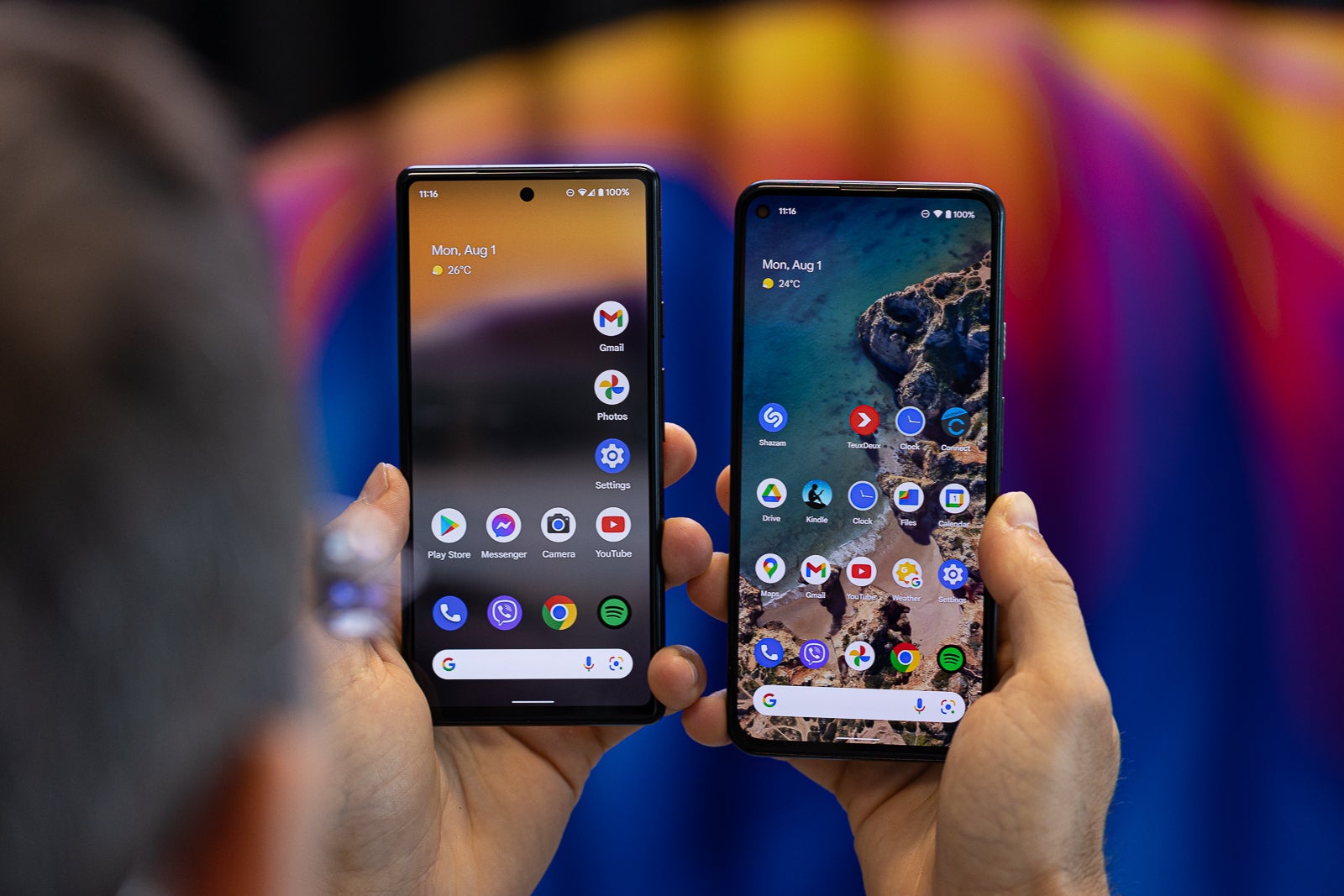 The Pixel 6a's display (left) and Pixel 5a's screen (right)
In terms of display differences, the new Pixel 6a doesn't really bring anything worth noting over its predecessor, aside from the 6a being slightly smaller. We'll let our display benchmarks speak for themselves:
Display measurements and quality
As we can see, the Pixel 6a is quite an improvement over the Pixel 5a in terms of max brightness. While the Pixel 5a could feel a bit dim under certain conditions, the Pixel 6a should be comfortable even under sunlight. As for the color temperature of both displays, they're both about equally good.
Let's look at the actual display specs of each phone, starting with the Pixel 6a's display specs:
Pixel 6a display specs:
6.1-inch, OLED
60 Hz refresh rate
1080p resolution
431 PPI (pixels per inch)
Scratch-resistant glass (Corning Gorilla Glass 3)
Last year's Pixel 5a has a 6.3-inch OLED display with the following specs:
Pixel 5a display specs:
6.3-inch, OLED
60 Hz refresh rate
1080p resolution
415 PPI (pixels per inch)
Scratch-resistant glass (Corning Gorilla Glass 3)
Unfortunately the Pixel 6a does not bring 120Hz display refresh rate, but it remains with the more traditional 60Hz, just like its predecessor. Other than that, no huge differences in the raw display spec numbers. It's worth noting that both phones' screens are covered with Gorilla Glass, which is always welcome.
Pixel 6a vs Pixel 5a: Hardware and performance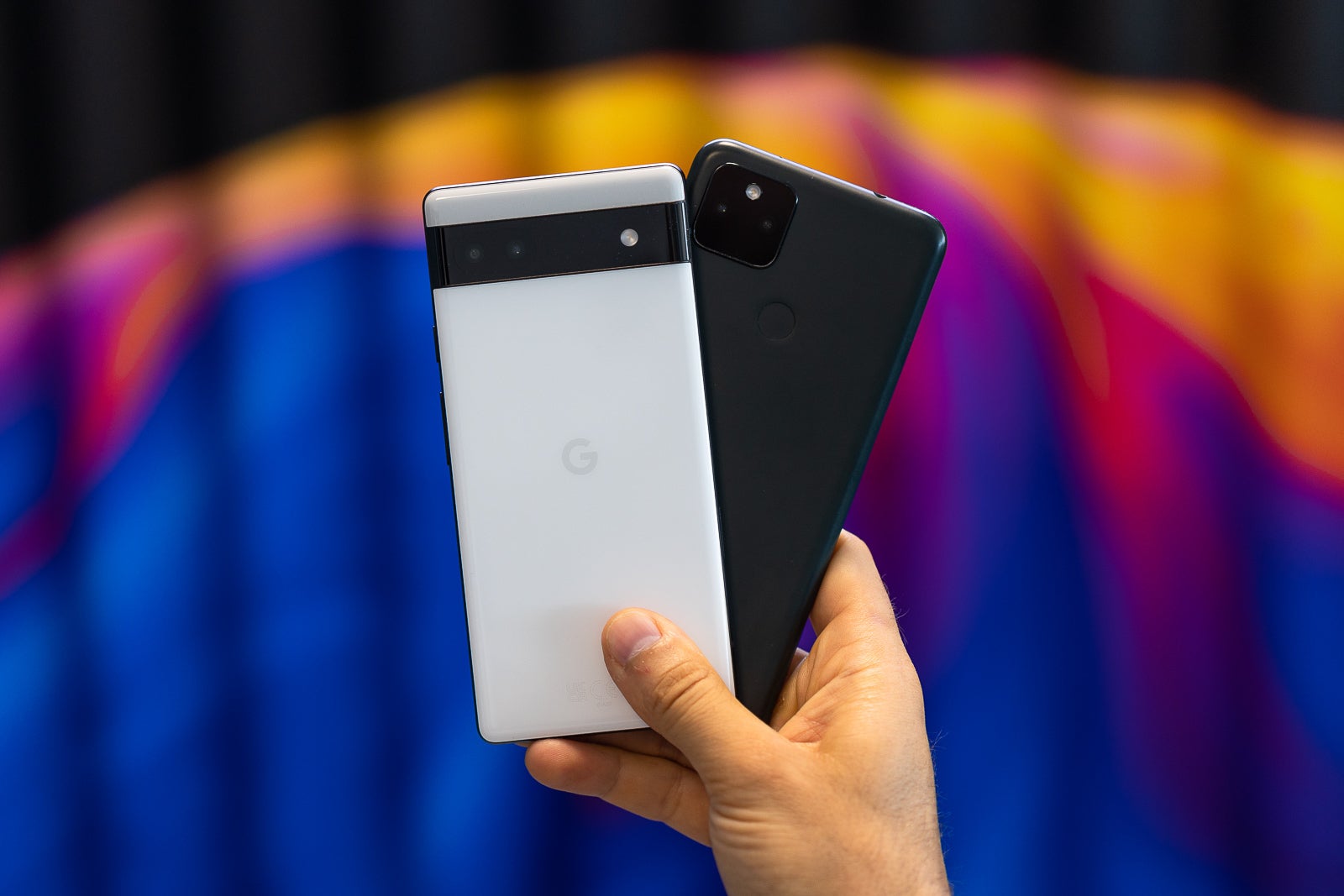 The Pixel 6a (left) and Pixel 5a (right)
The new Google Pixel 6a is powered by the search engine giant's own Google Tensor GS101 processor and 6GB of RAM. In our recent
Google Pixel 6a review
we found the phone to offer excellent performance both for casual use and heavy gaming. However, we noticed that the Pixel 6a could get uncomfortably hot during longer gaming sessions in games such as Genshin Impact, which is something to be aware of, if you're a hardcore gamer yourself. This phone's cooling under heavy loads might not be the best.
The Pixel 5a is instead powered by the Qualcomm Snapdragon 765G, paired again with 6GB of RAM. In our
Google Pixel 5a review
we weren't exactly impressed with its performance, but it is still a good phone for casual use, and for playing the occasional not-too-demanding game.
Let's look at our performance benchmarks for both phones and see the raw numbers:
As is quite apparent, the Pixel 6a is a huge step up from the Pixel 5a in terms of performance, crushing its predecessor in most of our tests, by far. However, again, do keep in mind that the 6a can get uncomfortably hot when pushed for a long time (e.g. 20 minutes of playing Genshin Impact).
Pixel 6a vs Pixel 5a: Cameras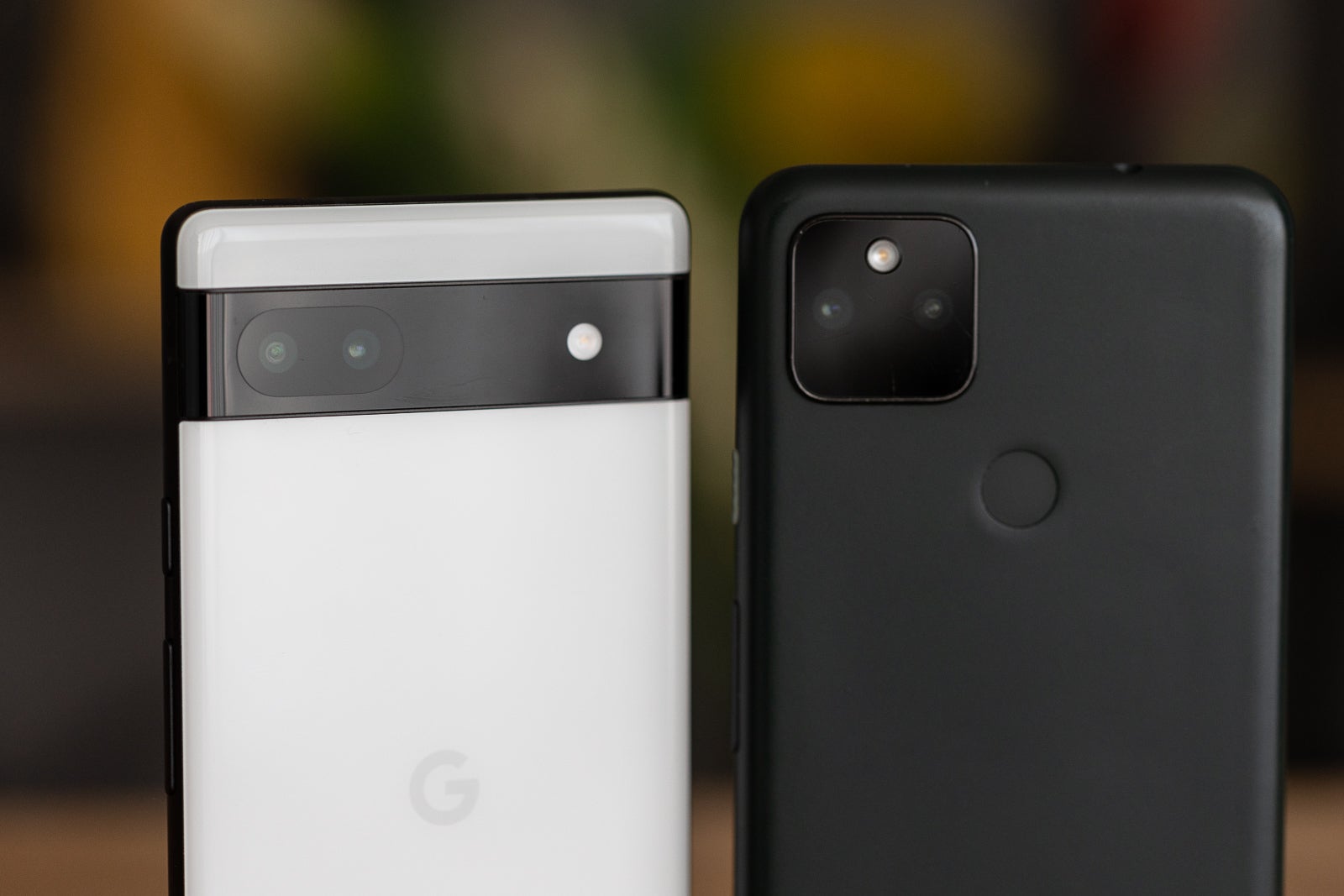 The Pixel 6a's horizontal camera module (left) and Pixel 5a's square one (right)
The Pixel 6a has dual cameras inside of its large, horizontal camera module – a 12.2MP main and 12MP ultra-wide. Those are both Sony sensors, the IMX363 and IMX386 respectively. New camera features that one has are most notably an enhanced Magic Eraser, capable of removing distracting objects from photos, better Night Sight and Real Tone.
The 2021 Pixel 5a packs dual main cameras – 12.2 MP one and a 16 MP (Ultra-wide) one. Those can record video at up to 3840x2160 (4K UHD) and 60 frames per second. The Pixel 5a's front camera is an 8 MP shooter capable of 1920x1080 (Full HD) video recording.
Pixel 5a camera samples
Let's look at our camera samples for both phones and compare the results, starting with video...
It's fair to say that both phones are capable of delivering some great video footage in good lighting. Small differences include the Pixel 5a having a bit stronger contrast and sharpening, while the Pixel 6a brightens the darker spots of an image more, making everything easier to see.
Both phones can switch from the main camera to the ultra-wide on the fly, during video recording, and the results exhibit the same over-sharpening and slightly stronger contrast on the Pixel 5a over the Pixel 6a's nicer and more normalized image.
Same goes for nighttime video recording, with both phones struggling, but the Pixel 5a having significantly worse over-sharpening and blown out brighter spots, while the Pixel 6a produces softer and more color-accurate nighttime videos.
The video stabilization of both phones is quite good, and about on par. And we can say the same for the microphone quality.
Now let's compare the Pixel 6a and the Pixel 5a's cameras with some still sample photos.
As we can see from those daytime sample photos taken with both phones' main cameras, there's hardly any difference worth talking about. Both the Pixel 6a and the Pixel 5a should be more than suitable for those who like taking lots of pics in good lighting conditions.
In the shot above we can notice that the Pixel 6a produces slightly warmer images, while the Pixel 5a is ever so slightly more washed out and more notably, over-sharpens the image more, which can get unappealing, especially while zooming in.
Above is a difficult nighttime shot, but both phones produce respectable photos in the dark. Looking at the leaves of the tree we can see that the Pixel 6a has captured more detail, and again, more accurate colors, as opposed to the Pixel 5a, which made those blurry and their color colder.
Pixel 6a vs Pixel 5a: Battery
The Pixel 6a's battery size is 4410mAh, and it's capable of fast charging at up to 18W.
The Pixel 5a's battery size is slightly larger at 4680 mAh, but the phone's supported wired fast charging speeds are the same, at up to 18W.
No wireless charging for either phone, unfortunately.

During our Pixel 6a testing, we found it to be a comfortable day-and-a-half device under heavy use, but it could likely last longer with normal or light usage.

During our usual battery life testing for our Pixel 5a review, we found it to be a respectably long-lasting device too.
Check out our battery benchmarks below to see what you can expect in terms of raw numbers.
As we can see, the older Pixel 5a outperforms the Pixel 6a when it comes to battery endurance, but again, the 5a is a much less powerful phone, which plays a big role in how long its battery lasts.