Apple Watch 8 release date, price, features, and news
The Apple Watch is the most popular smartwatch across the globe, and by a wide margin. Get this - in 2021 alone, Apple had a 30% share of the smartwatch market, with Samsung trailing as the second-best company with a 10% share. This is huge, and makes the upcoming Watch Series 8 that more important - and interesting.
Amazon Prime Day 2022 is in full swing, and that means there are some fresh deals on various Apple Watch models, such as the current Series 7 flagship. Be sure to check out our
Apple Watch Prime Day deals
while they last!
We've included all of the information on the Apple Watch 8 that's currently available, and will be continuously updating this article with more information as it becomes available.

Latest Apple Watch 8 news
Apple Watch 8 release date
Supposedly, the Apple Watch 8 will be unveiled on stage alongside the iPhone 14 family in September 2022. This falls in line with the usual announcement window for the Apple Watch and coincides with previous Apple Watch releases.

Our expectations are that Apple will hold an event on
September 13
, where it will showcase the
iPhone 14 series
and the Apple Watch 8.
Here's how that would compare with previous announcements.

| Device family | Announcement | Market release |
| --- | --- | --- |
| Apple Watch Series 5 | September 10, 2019 | September 25, 2019 |
| Apple Watch Series 6 | September 15, 2020 | September 18, 2020 |
| Apple Watch SE | September 15, 2020 | September 18, 2020 |
| Apple Watch Series 7 | September 14, 2021 | September 24, 2021 |
| Apple Watch Series 8 | September 13, 2022* | September 23, 2022* |
* - probable dates
Apple Watch 8 price
When it comes to the pricing of the Apple Watch 8, we generally expect no surprises. Ever since the Apple Watch Series 5, Apple has gone into a predictive pricing pattern that's not-so-likely to be broken in 2022.

Starting at $399 for the regular, GPS-only version, and at $499 for the base GPS + cellular version, every Apple Watch generation since 2019 has been priced the same, with the notable omission here being the Apple Watch SE, but it's a different device so its more affordable price tag is justified.

Thus, we don't expect any stark differences with this pattern: the Apple Watch 8 will likely start at
$399
, and the GPS+cellular version might definitely carry a
$499
price tag. Of course, there will be more expensive stainless steel and exclusive versions of the Apple Watch Series 8 that will be costlier to acquire.
| iPhone model | GPS | GPS + Cellular |
| --- | --- | --- |
| Apple Watch Series 5 | $399 | $499 |
| Apple Watch Series 6 | $399 | $499 |
| Apple Watch SE | $279 | $329 |
| Apple Watch Series 7 | $399 | $499 |
| Apple Watch Series 8 | $399* | $499* |
| Apple Watch Series 8 Pro (Extreme Edition) | - | $899 |
Apple Watch 8 versions
So far, we expect two distinct versions of the Apple Watch 8: a regular one that would come in different sizes and build materials, and a separate rugged version of the wearable that would be tougher and able to withstand more wear and tear, similar to a G-Shock or a Garmin smartwatch. The latter would be a first for Apple, which has only released regular smartwatches that aren't extremely durable and are very likely to scratch and scrape during more extreme usage.
Apple Watch 8 design & display

The Apple Watch Series 8 shaping up to be the greatest design overhaul in Apple's wearable existence. What we expected to take place last year, which was the anticipated shift from a curved to a full flat design akin to the iPhone 12/13, is actually expected to take place in 2022.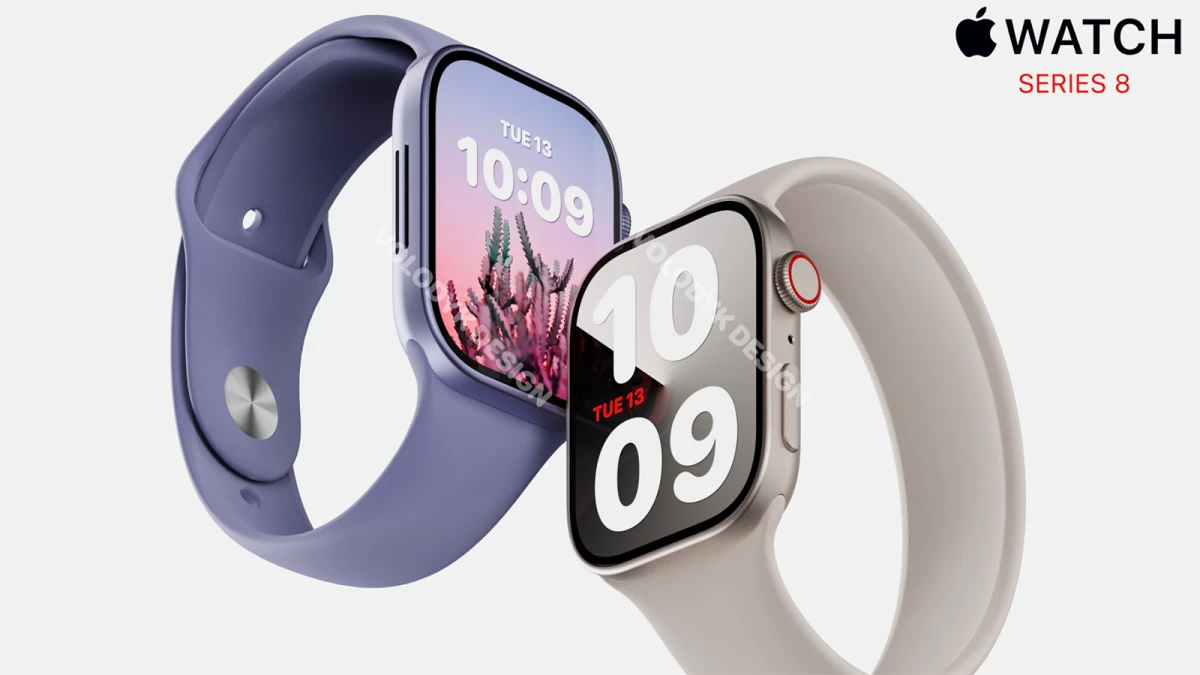 Indeed, we expect the Apple Watch 8 to look vastly different to its predecessors and feature a mostly flat design, with less curves than before. This would certainly help with consistency, as the wearable will finally look similar to the latest iPhones. Both the displays and the sides will be mostly flat, but one essential part of the wearable will remain unchanged: the bottom part, the one which actually touches your arm and houses all the sensors, will certainly remain slightly curved for a maximum performance.

In recent leaks, it was also hinted that the Apple Watch Series 8 is expected to come with a 5% larger display than the Apple Watch Series 7. That's probably pushing the limits of the form factor of Cupertino's insanely popular smartwatch.
Here's how designer
@ld_vova
imagines the Apple Watch 8 could look like. Of course, as most renders, these feature some quite optimistically-thin bezels all around the display that definitely look stunning, but let's be real, we're probably not getting such bezels for a couple of years, are we?
As far as the rugged Apple Watch is considered, we could be looking at a 2-inch display , with a case in the ballpark of 46 or 47mm. The slightly more screen real estate will reportedly house a display with a resolution of 410 x 502 pixels, and supposedly Apple will use the extra space to show more fitness metrics and complications. The display could be also more shatter-resistant, but that would make it more prone to scratching.
Apple Watch 8 battery
We don't have any concrete leaks on the Apple Watch Series 8 battery capacity, but it shouldn't differ that much from the one found on the Apple Watch Series 7, provided the new design doesn't change things too much for the wearable.
All in all, we expect a one day, day and a half of battery life for the upcoming smartwatch, but of course, Apple could pull some strings and surprise us with much better battery life than expected. The
Galaxy Watch 5 Pro
is rumored to come with an extremely large battery, in the vicinity of 500mAh, so there's always the chance that we might see an Apple Watch with a larger and denser battery cell.
Apple Watch 8 health features and software
The Apple Watch 8 will be running watchOS 9, the latest version of the operating system for Apple's wearables. Apple's watchOS 9 was revealed during the company's WWDC 2022 conference. The operating system that powers the Apple Watch series will receive a substantial update in the fall, with both new functions and design tweaks. The most essential of them is arguably AFib monitoring, which has the potential to save many lives. Surely, a new watch face or two will be available as well.
According to Bloomberg's Mark Gurman, the Watch Series 8 will include a body temperature sensor, a feature found on many other smartwatches like the Huawei Watch GT3 and many Garmin wearables, as well as being rumored to appear on the Galaxy Watch 5 series. There will be better atrial fibrillation monitoring on the Apple Watch Series 8 as well, believes Gurman.
The wearable might possibly have new watch faces and training kinds, as well as a new low-power mode to boost battery life and satellite connection. The Series 8 will still detect your heart rate and blood oxygen saturation, but it will not have the alleged temperature, blood sugar, or blood pressure measures that Apple has been working on.
Should I wait for the Apple Watch Series 8?
You should wait for Apple Watch 8

if you're invested in the Apple wearable ecosystem and have been putting off on upgrading your older Apple Watch for a while now. The Apple Watch 8 is shaping up to be a meaningful upgrade and would most certainly be an excellent health companion for years to come. It would probably be the best time to get into the ecosystem with the Apple Watch Series 8.

You should not wait for the Apple Watch 8 if

you've recently got the Apple Watch Series 7 or... are completely satisfied with your older Apple Watch! Honestly, the Apple Watch 8 will probably be awesome, but in all honesty, so will be the next Apple watches, so you could technically postpone upgrading if you're satisfied with your current wearable.