Apple AirPods Max release date, price, features, and news
We may earn a commission if you make a purchase from the links on this page.
After a long time of leaks, rumors, whispers, and speculation, Apple has finally unveiled the AirPods Max (previously known as AirPods Studio). It's a wireless set of over-ear headphones with noise-cancellation, which are meant to be a part of the Apple ecosystem and enhance the user experience with features such as Adaptive EQ, Spatial Audio, and support for Dolby Atmos, 5.1 and 7.1 sound.
Apple AirPods Max release date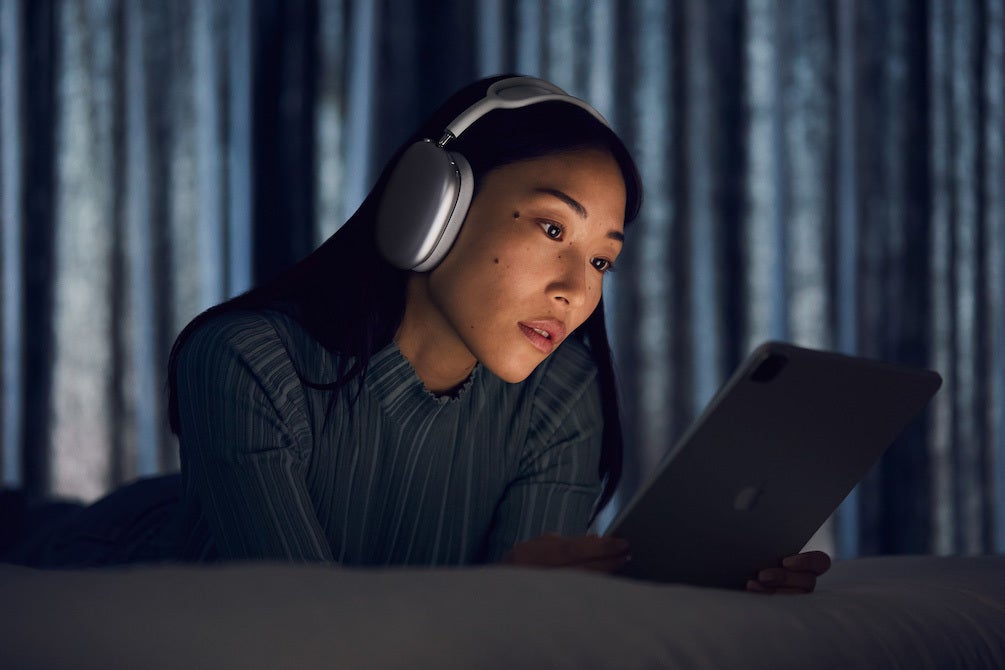 The AirPods Studio were announced on the 8th of December and pre-orders were immediately open. The initial shipping date was pegged at 15th of December. However, it seems that demand is high, as different models are slowly becoming out of stock with their
next shipping date marked as March, 2021
.
Apple AirPods Max price
The price of these cans is steep — the Apple AirPods Max will cost you $549. Old rumors stated that there might be a cheaper, more sporty-model avaialble for around $349. However, this one has not been officially announced by Apple and we can only guess whether it will ever exist.
Apple AirPods Max design
The AirPods Max have the typical minimalistic, clean design we've come to expect from Apple. The two earcups are mostly clean, with a soft matte finish. There is an Apple-Watch-like Digital Crown on the top, which is used for volume control, media playback, call answering, and to summon Siri. Another button close to it allows you to switch between Noise Cancellation and Transparency Mode (the latter allows outside noises to come through the earphone drivers).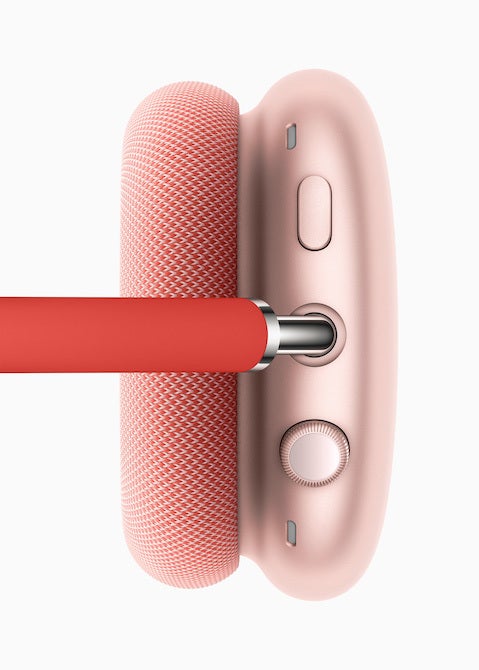 The headband on top is a pretty interesting design — most of it is a soft mesh meant to press lightly and evenly over the user's head. It's held by a thin, round, stainless steel frame, and the whole package looks very light. The arms of the frame are telescopic and the ear cushions are made with memory foam to ensure snug, but comfy fit.
The AirPods Max are charged via a Lightning cable (USB Type-C to Lightning in the box). The earphones don't have a 3.5 mm audio jack, but a
Lightning-to-jack adapter is sold separately
, which allows you to use them as wired headphones.
Apple AirPods Max colors
The AirPods Max come in 5 different colors — Silver, Space Gray, Sky Blue, Pink, and Green. Most of them are dual-tone, with the headband being a slightly lighter or darker shade of the respective color.
Apple AirPods Max hardware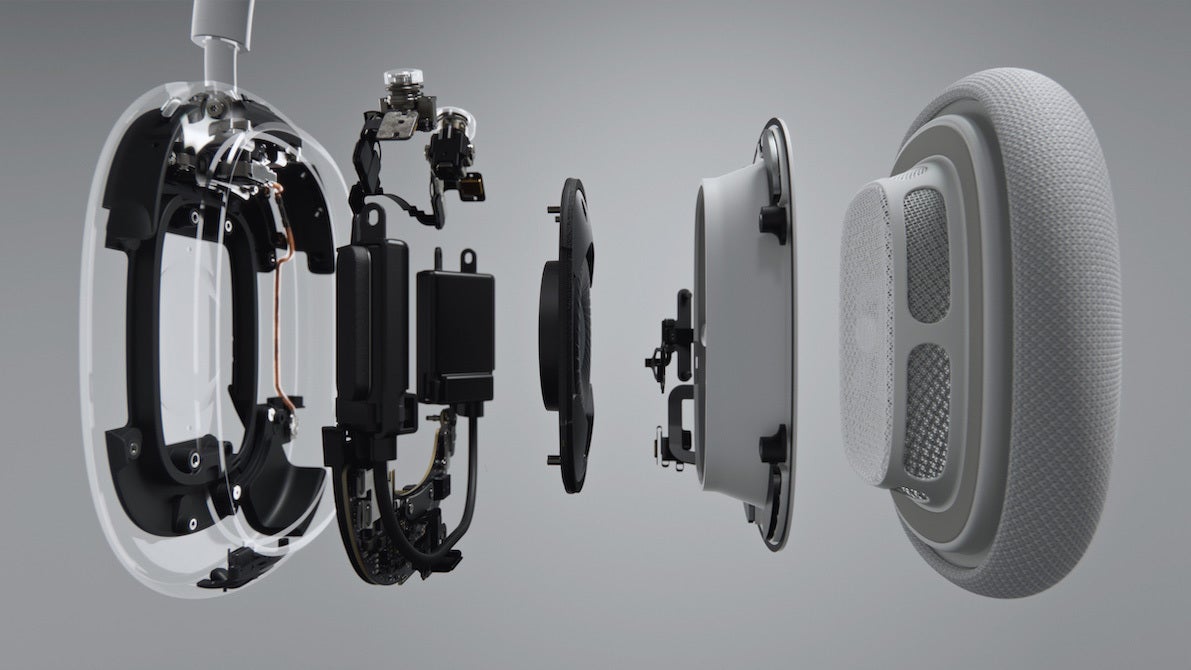 The AirPods Max feature 40 mm drivers in each earcup, powered by a dual neodymium ring magnet motor. Neodymium magnets are known for being extremely strong, yet extremely light, and Apple quotes a total harmonic distortion of less than 1 percent across the entire audible range.
Each earcup holds an Apple H1 chip — designed specifically for computational audio, these 10-core processors are capable of 9 billion operations per second, which are the backbone of features such as Active Noise Cancellation and Adaptive EQ.
The battery inside the AirPods Max is good for up to 20 hours of continuous listening, as per the specs.
Apple AirPods Max features
Active Noise Cancellation
Adaptive EQ
Transparency Mode
Spatial Audio
Muti-device support
Audio sharing
Siri
AirPods Max Active Noise Cancellation
The AirPods Max have three outward-facing mics and one internal mic on each cup. These are constantly monitoring both ambient audio outside as well as what's going on inside the earcups themselves. This allows the AirPods Max to continuously adjust the noise cancellation in real time, in regards of ambient noise, audio played, and how the earcups are fitted.
AirPods Max Adaptive EQ
The AirPods Max will continuously scan the fit and seal around the user's ears as well as the sounds that are currently being played through the drivers. The headset will then automatically adjust bass and mid frequencies in order to achieve a consistent sound at all times.
AirPods Max Transparency Mode
Just like many other headphones with ANC, the AirPods Max can use its external microphones to let outside ambience "pass through" to the headphone's drivers, allowing for increased user awareness. Useful for traffic, a quick conversation, or any other situation that calls for it.
AirPods Max Spatial Audio
The AidPods Max support sounds recorded in 5.1, 7.1, and Dolby Atmos audio. However, the headset's true bragging feature is the head-tracking feature, which places sounds anywhere in space. Essentially, when looking at video on your iPad, Apple TV, or MacBook, the AirPods Max will track head movement and make sure to always provide the illusion that the sound is coming from the device that's playing your media.
AirPods Max Multi-device Support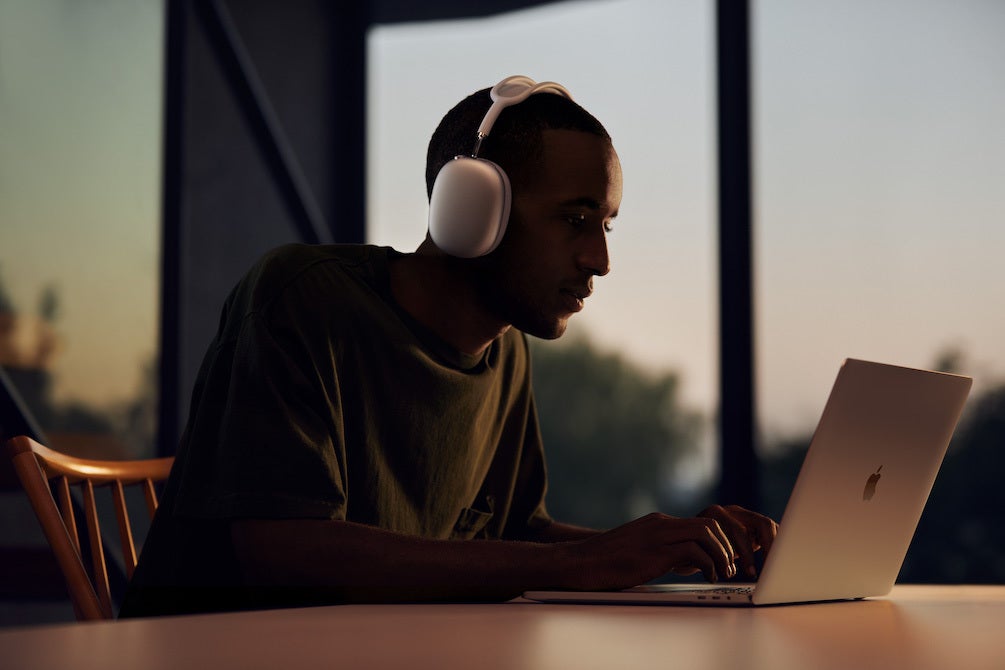 Just like the regular AirPods and AirPods Pro, you only need to pair the AirPods Max to one of your Apple devices. It will then automatically be connected to all of the devices that are signed in to your iCloud and will seamlessly switch between them to play the appropriate audio.
AirPods Max Audio Sharing
You can share audio from one Apple device to two different sets of AirPods. This allows you to share music and Netflix shows with a friend while remaining discreet. Just bring the guest's AirPods next to your Apple device to activate.
Siri
Apple's voice assistant is easily accessible on the AirPods Max — either call it by name or press and hold on the Digital Crown to make your request.